Shef has already spent most of the season on the disabled list, and after last week's MRI confirmed that he needed

surgery to repair a torn ligament and dislocated tendon in his wrist

, he will be out for at least 3 more months before he can return to the Yanks' lineup. The injury in question occurred back on April 29th when he slammed—full force—into Shea Hillenbrand at 1st base. Brian Cashman announced the surgery today, stating that, though serious, the injury

will not prove to be season-ending

for Sheff.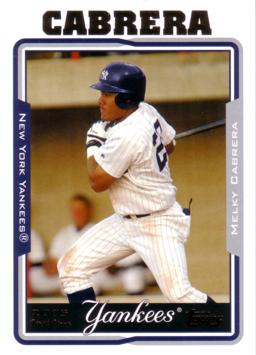 The Yankees have had to shuffle their roster almost daily this season, what with the injuries to Sheff, Matsui, Chacon, Bubba, Jeter, Mariano, et al. The seemingly never-ending parade of injuries plaguing the Yanks is disappointing, but the real surprise came not in the injuries but in their aftermath. Melky has exceeded even the biggest expectations the Yanks had for him; Torre noted that even if Melky were to hit a slump for the rest of the season his contributions during May and June are so impressive that he is confident Melky has what it takes to be a Yankee. Bernie, who was signed as a DH and 4th outfielder and was predicted by many to be virtually worthless this year, has stepped up to the plate (pun intended) both offensively and defensively: he's hitting .269 and has made just 1 error in the outfield. With Giambi playing DH more often, Andy Phillips has been manning 1st base and despite a slow start (he was hitting .208 as recently as 10 days ago) he has shown perseverance and power, including a recent hot streak that has boosted his average all the way up to .284. Even Miguel Cairo, who filled in for A-Rod at 3rd during his flu-induced absence and has been playing shortstop while Jeter's wrist is hurt, has been playing decently.
Before tonight's game against the BoSox, the Yankees' record stood at 35-22, a record better than all but 2 MLB teams (Tigers and White Sox). They've managed to beat some of the best pitchers in the league and have shut down power-offenses, all without the help of Sheff or Matsui, and even Jeter as of late. Sheffield's surgery is bad news, but I imagine it will prove to be no more than a blip in a season of tough luck and incredible playing by the remaining roster.
Labels: bern bernie bern, injuries