With just 24 hours of trading time left, the Yankees and the Phillies were finally able to hammer out a long-rumored deal to bring Abreu to the Bronx. In exchange for the OBP-extraordinaire Abreu and better-than-Ponson Lidle, the Yanks sent the Phillies 4 minor leaguers.

Trade Details

The Cost:

C.J. Henry (SS). Henry was the Yanks 1st round draft pick last year, but was only hitting .237 with 2 home runs and 33 RBIs in Class A this year.

Jesus Sanchez (C). With the Gulf Coast League Yankees (sub Class A), he was hitting .264 and just 10 RBIs.

Carlos Monasterios (RHP). He played with Sanchez for the GCL Yanks this year and posted a 2.97 ERA in 7 games, including 3 starts.

Matt Smith (LHP). Easily the biggest talent the Yankees lost in the deal, Smith appeared 12 times for the Yanks this year without allowing a run and had a 2.08 ERA out of the bullpen in AAA.

Money: The Yankees agreed to take complete responsibility for Abreu's hefty contract. Abreu is due $22 million for the remainder of the 2006 season and the 2007 season; the Phillies paid him $1.5 million to waive his no-trade clause. Lidle is in the last year of his contract, which allotted him $3.3 million for 2006. The Yanks will pay Lidle the remainder of that $3.3 million.

The Return: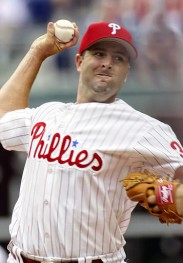 Cory Lidle (RHP). The 36-year-old may not be the most dominating pitcher in the league, but he has been very consistent over the years and should provide the Yanks with a much-needed steady arm at the back end of their rotation.

Bobby Abreu (OF). Abreu has been having a good 2006 season, and the good news is that he's posted great numbers his entire career. His OBP is 3rd-best in the league, and he can hit for both average and power.
The Reward:
Adding Abreu's impressive OBP and RBIs to the lineup is just what the doctor ordered to give the Yanks the boost they need to overtake the division. Baseball Prospectus speculates that the Yankees will win 1.5 extra games over the course of the remainder of the season with Abreu in the lineup, and while Lidle may not be the ace Yankees fans were hoping Cashman would find, his consistency will certainly offer more stability and innings pitched than could Ponson or Chacon.
Labels: farm hands, roster moves, signings