Left

: A man likely not on drugs.

Right

: A man likely under the influence of 1-4 illegal substances.



The Nationals may have (stupidly) held on to Soriano, but there were still plenty of other trades going down right up to the 4pm EST deadline. None of the deals were necessarily blockbusters, but the

mid-season shake-up

that the frenzy of trade-deadline transactions brings is always exciting!

After Cashman and Steinbrenner sent 4 minor leaguers to Phillie to bring a big bat in Bobby Abreu and a 4th starter in Cory Lidle to New York, I assumed they were done tweaking the Yankees' roster. Alas, the Pirates came a-knockin' and the Yanks were able to make one more adjustment before the deadline passed. The Yanks and Pirates reached a deal that will bring outfielder/1st baseman Craig Wilson into New York and send constantly stoned-looking Shawn Chacon packing to Pittsburgh. Wilson, who is hitting .267 with 13 homers and 41 RBIs this year, is experienced both in the outfield and at first base, and will probably be taking over for Andy Phillip at 1st base to free Jason Giambi up for full-time DH duty.


Also of note is the fact that the Red Sox made no moves today, choosing instead to hold onto their prospects. This bodes exceptionally well for the Yankees, who are hovering just a half game behind the Sox. Aaron Guile has already been busted down to AAA to make room for the new acquisitions, and either Bubba Crosby or Nick Greene will be joining him soon, leaving nothing but a lean, mean Yankees lineup for the rest of the league to contend with.


Other Notable Trades: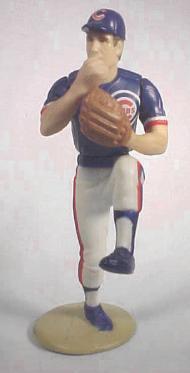 Dodgers and Cubs
Future Hall of Famer Greg Maddux (right, in toy form [that figurine costs $140, by the way]) and his 81 strike-outs will join Brad Penny and Derek Lowe on the Dodgers, and the Cubs will make use of Gold Glove infielder Cesar Izturis' defensive skills.
Dodgers and Devil Rays
The Dodgers shipped 2 prospects, Joel Guzman and Sergio Pedroza, off to Tampa Bay in exchange for infielder Julio Lugo. Guzman, who has played all over the infield as well as left field, is hitting .297 in AAA this year, and outfielder Pedroza was a 3rd round draft pick for the Dodgers last year. The Dodgers scored with Lugo, though, who is hitting .308 with 12 home runs this year.
Padres and Cubs
Infielder Todd Walker will join the Padres to assist Blum and Bellhorn in filling in the gap left by Vinny Castilla (who was released on July 19). In return, the Padres sent minor league RHP Jose Ceda to Chicago.
Mets and Pirates
The Mets' set-up man, former Dodger Duaner Sanchez, suffered a shoulder injury yesterday when a cab he was riding in got hit by a drunk driver. He was a vital piece of the Mets' success this year, and they acted fast to replace him today. Roberto Hernandez (left...and yes, he is indeed 73 years old), who pitched out of the bullpen for the Mets last year, and 24-year-old starter Oliver Perez, will join the Mets, and outfielder Xavier Nady will head to Pittsburg.
Labels: red sox rivalry, roster moves, signings