Heroes (Advertisers)
Purchase the best NY Yankees Game Tickets from Ticket Brokers Vivid Seats which include NY Giants Tickets, New York Mets Tickets, Knicks NBA Tickets, Rangers Hockey Tickets, Islanders Tickets, Jersey Boys Tickets, , Madison Square Garden Event Tickets New Jersey NBA Nets Tickets and Devils NHL Games .

---
Find New York Yankees tickets and other hot MLB tickets at CTC! We carry Cardinals baseball tickets, Red Sox tickets in Boston, Detroit Tigers tickets, Dodgers tickets and World Series tickets as well as New York Giants tickets and hot show tickets, including Coldplay concert tickets, Conan O'Brien tickets, NY theater tickets and Broadway show tickets.

---
---
View blog authority

Baseball Gods Send Cano to Disabled List
Wednesday, June 28, 2006
clearly

did not have quite enough injured players yet,

the Baseball Gods kindly struck down Robby Cano

with a small tear in his left hamstring. The poor kid was running out a double—his 17th of the season, incidentally—when the injury occurred. An MRI confirmed the injury on Tuesday, and he'll be sidelined till after the All-Star break. Cairo will be taking over at 2nd, but AAA Columbus infielder Nick Green was brought up to fill out the roster

Sarcasm aside, I suppose we should feel lucky that it is only a small tear and should heal quickly. We should also feel lucky to have Cairo, who, while he isn't exactly a hit machine, is doing fairly well for a bench player. He's stolen 6 bases, and he can.....


....never mind. Enough optimism. The Yankees Chick is very, very frustrated. Let's all hope Cano heals up quickly - - - and fully. Candlelight vigil, anyone?


Labels: injuries, roster moves
posted by Yankees Chick @ Wednesday, June 28, 2006


Robinson Cano INJURED!
Monday, June 26, 2006
Little Robby Cano will not be in the lineup tonight after straining his hamstring while running out a double yesterday. The Yankees have not yet issued a statement describing the severity of the inury, so as of now it is unclear how long he'll be out.

Cairo will be taking over at 2nd base for the time being. Until

he

gets injured, that is...because at this rate the Yankees will not have a team at all by the All-Star break.

Labels: injuries
posted by Yankees Chick @ Monday, June 26, 2006


Yankees Bring Back the Golden Oldies on Annual Old-Timers' Day
Thursday, June 22, 2006
If you're lucky enough to be attending this Saturday's game against the Marlins, make sure you get to the stadium early. The Yanks will be celebrating the

60

th

annual Old-Timers' Day

on the 24th, and living legends like Yogi Berra, Whitey Ford, and Reggie Jackson will be there to remind fans of the "good old days" ('when I was a Yankee, I had to walk 6 miles uphill, in the snow, barefoot, just to get to the stadium!'). Perfect gamer

David Cone

(right, wearing what will surely end up on my 2006 gift guide)

will be making his first appearance as an Old-Timer, as will Darryl Strawberry, Dennis Rasmussen, Steve Kemp, Bobby Meacham, and Ross Moschitto. This year also marks the 50th anniversary of the

perfect game thrown by Don Larsen during the 1956 World Series against the (Brooklyn) Dodgers

, and the Yanks will be honoring Larsen during the Old-Timers' Day.

The Yankees Chick won't be in New York until next week, so if any of you will be in attendance this weekend and are able to snap some pictures of the old men, please send them my way (I'll credit you, simmer down). I'd love to do a tribute to those former Yanks and include some pictures of how they look now.
posted by Yankees Chick @ Thursday, June 22, 2006


Yankees Relief Pitching: I'm Sending Out an SOS
Wednesday, June 21, 2006
The Yanks have had a rough June.

They're 8-10 this month

, and their recent downswing has allowed the BoSox to surge ahead into 1st place in the AL East by 2 games, and the Blue Jays are just a game and a half behind the Yanks. I fear that despite all the blame being placed on the offense (or the lack thereof due to various injuries and/or stomach viruses [hangovers]), the true culprits that need to be held accountable for these losses are the pitchers—namely, the ones coming out of the bullpen.

Forget, for a moment, about Matsui. Forget about Sheffield. Forget even about Johnson and Chacon. Sit down and make sure you remove the young children from the room, as the numbers I am about to discuss may cause explosive language to come from your mouth.

The Yankees' bullpen actually started out fairly strong, but in the past month they have gone sharply downhill. For comparison, the relievers have a combined ERA of 3.86 on the year (8th in the majors), but in the past 30 days they have an ERA of 4.86 (20th in the majors) and their opponents are hitting .333 off their pitching. Without Mariano, who continues to be strong despite a couple rough innings, these numbers would be even worse.


Relievers' Stats, Last 30 Days (5.0

or more

IP):
Scott Proctor: 16.1 IP, 7.71 ERA, 1.59 WHIP
Kyle Farnsworth (right, vomiting into his jersey after giving up yet another run): 13.0 IP, 6.23 ERA, 1.92 WHIP
Scott Erickson: 6.2 IP, 9.45 ERA, 1.95 WHIP
Aaron Small: 13.0 IP, 3.31 ERA, 1.85 WHIP
Ron Villone: 12.1 IP, 1.46 ERA, 1.14 WHIP
Bullpen Disasters, Last 30 Days
5/22: Bean allows 2 ER in bottom of 8th, giving Red Sox 8-run lead. Yankees lose to Red Sox 9-5
5/26: Proctor blows save, 1 ER. Farsworth allows 3 more ER. Yankees lose to Royals 6-7
6/1: Farnsworth blows save, 2 ER. Yankees lose to Tigers 6-7
6/4: Erickson (right, covering up his low self-esteem with a sassy pose) allows 4 ER, putting game out of reach. Yankees lose to Orioles 4-11
6/8: Proctor blows save, 3 ER. Yankees lose to Red Sox 3-9
6/11: Farnsworth gives up 1 ER, allowing the A's to take the lead. Yankees lose to A's 5-6/15: Small (left, tipping his hat to his career) gives up 2 ER in 9th inning, putting creating a 4-run deficit for the Yanks. Yankees lose to Indians 4-8
6/17: Beam allows 2 ER in 5th, Proctor allows 1 (though he faced just 5 batters). Mariano blows save and allows 2 ER. Yankees lose to Nats 9-11
6/19: Farnsworth allows 1 ER, turning a 1-run shortfall into a 2-run deficit. Yankees lose to Phillies 2-4.
Lest you continue to think that the Yankees problems stem solely from their offensive troubles, rest assured that their bats still quite dominating. As a team, the Yankees are 2nd in the majors in runs scored (399), 3rd in batting average (.286), 6th in hits (688), 6th in slugging percentage (.453), and 1st in OBP (.369). They are clearly doing their very best with their persistently changing lineup, and they are hitting well enough to win most of their games.
What, then, should be done? More accurately, what can be done? The Yankees are dangerously low on resources and good bullpen help is hard to come by. They could try to deal for a starting pitcher and rotate one of the starters into the bullpen, or they may try to add another big bat. Octavio Dotel is allegedly going to be ready to pitch in a couple weeks, so waiting to see what his contribution can do is another option. What do you think the Yanks should do? Submit your requests in the comments, and I'll see what I can do to make it happen*.
*nothing can be done.
posted by Yankees Chick @ Wednesday, June 21, 2006


Yankees Kick Off 15 Interleague Games With NL East
Friday, June 16, 2006
The Yanks are about to embark on a 2+ week mission of interleague play against the teams of the National League East, a land where pitchers have to touch bats and bench players frequently get a chance to pinch hit. Some may argue that the results of interleague games are fairly irrelevant—what is the difference, after all, if the Yankees beat the Phillies when it is the teams in our own division they should be concentrating on—but the Yanks know that any opportunity to improve their record by playing teams other than the Red Sox should not be taken lightly! I myself enjoy the games, especially the ones played at NL stadiums; I like watching pitchers bat, and knowing that Torre will have to do some serious bench managing is always exciting.



Here's a brief rundown of what the Yanks will be up against on their interleague operation:




Series 1: vs Washington Nationals at RKF Stadium
June 16, 17, 18


Nats' Current Record:

30-38 (Home: 13-18, Away: 17-20), 4th place in NL East


Who to Watch:

Former Yanks Nick Johnson (1B) and Soriano (OF) are both having a great season. Johnson is hitting .309 with 33 RBIs and an incredible .436 OPS, and Soriano is hitting .289 with 47 RBIs (13th best in the NL).


Difficulty Level:

4 out of 10. The Yankees

should

be able to sweep the Nat's without much trouble. Giambi's hand has healed enough to allow him to play/hit, and Bubba is back from the DL and available for pinch hitting/pinch running duties.




Series 2: vs Philadelphia Phillies at Citizen's Bank Ballpark
June 19, 20, 21
Phillies' Current Record: 33-33 (Home: 16-19, Away: 17-14), 2nd place in NL East
Who to Watch: Outfielder Shane Victorino is hitting a sweet .318 right now, but the real man to watch out for is closer (and former Yank) Tom Gordon, who has 18 saves in 19 opportunities and has allowed just 5 earned runs in 28 innings!
Difficulty Level: 5 out of 10. The Phillies started out strong and although they've been slipping a bit as of late they should not be discounted. They have strong offense in Abreu, Howard, Utley and Victorino, a fairly solid bullpen with Gordon, Greary, and Cormier. The good news for A-Rod, Phillips, and Giambi is that Citizen's Bank Ballpark is approximately the size of my backyard and they should be able to knock some balls out of the park.
Series 3: vs Florida Marlins at Yankees Stadium
June 23, 24, 25
Marlins' Current Record: 26-37 (Home: 12-17, Away: 14-20), 5th place in NL East
Who to Watch: Dontrelle Willis, of course. He's off to a slow start, but there's no doubt that he's capable of shutting a team down. He's also one of the pitchers rumored to be a possible future Yankee, so keep your eye on him.
Difficulty Level: 2 out of 10. They have won 7 of their last 10 games, but even with the plentitude of Yankees injuries I cannot fathom the Marlins dominating the Yanks at home.
Series 4: vs Atlanta Braves at Yankees Stadium
June 26, 27, 28
Braves' Current Record: 30-37 (Home: 14-14, Away: 16-23), 3rd place in NL East
Who to Watch: Brian McCann and Matt Diaz both have averages above .350, and Andruw Jones and Jeff Francouer have 57 and 47 RBIs respectively, making Atlanta's outfield a true force to contend with.
Difficulty Level: 3 out of 10. Atlanta has been a perennial presence at the top of the charts for years, but they have really been fumbling this year. They just got swept by the Marlins and have a very poor road win-loss percentage, making their chances of winning at Yankees Stadium pretty slim.
Series 5: vs NY Mets at Yankees Stadium
June 30, July 1, 2
Mets' Current Record: 42-23 (Home: 19-11, Away: 23-12), 1st place in NL East
Who to Watch: The Mets have a mob of hot players right now: 3rd baseman David Wright is hitting .335, outfielder Carlos Beltran is hitting .300 with 18 homers, and 1st baseman Carlos Delgado has 19 homers and 49 RBIs. They've also got great pitchers coming out of the bullpen, including Duaner Sanchez and Billy Wagner.
Difficulty Level: 10 out of 10. Everything has been coming together for the Mets this year, from the pitching to the offense to the management. They are doing everything they can to become "THE" New York team, and the Yanks are going to have to be on their best game to beat them.
posted by Yankees Chick @ Friday, June 16, 2006


A-Rod May be in a Slump, But He Knows the S.C.O.R.E.
Wednesday, June 14, 2006
"Jim has either left me a phone message or spoken to me in person or on the phone for

every game of my career

. Every game. For more than 2,000 times he has said to me the following statement: 'I hit solid with an accelerated bat head.' And I've repeated to myself the same mantra at least 10,000 times over the years."



He may be one of the best athletes of our time, but that doesn't mean things come easy to A-Rod. He has openly admitted that he suffers from

anxiety

and that he benefits from ongoing therapy, and anyone that has ever referred to him as a "choker" or "A-Fraud" might have noticed that he seems to be affected by high pressure situations. New York Daily News published a great article today about A-Rod's relationship with

Jim Fannin

, author of S.C.O.R.E. for Life. Fannin's book offers advice on how to reach personal and professional achievement with the following outline:
S: self-discipline
C: concentration
O: optimism
R: relaxation
E: enjoyment
A-Rod has used Fannin's system (and his daily personal support) to get through some tough slides despite increasingly obnoxious heckling from fickle Yankees fans. His latest slump is his 4-for-29 record since returning from a brief bout with the flu earlier this month (including 3 strikeouts yesterday), and fans in the Bronx are getting frustrated. Unfortunately for A-Rod, the mounting pressure only seems to make things worse in the short-term. It may be tough to imagine a 6'3" legend having confidence issues, but A-Rod's dedication to personal improvement—and willingness to share it with his fans—only endears him to me more. Time and time again A-Rod has pulled himself up out of these slumps, and he credits his "life coach" for his help. Perhaps A-Rod should pass some of Fannin's business cards around the dugout...

Labels: a-rod support, a-rod trouble
posted by Yankees Chick @ Wednesday, June 14, 2006


Yankees Need Pitching, But Focus Remains on Outfielding
Tuesday, June 13, 2006
In the midst of the

injuries to

Sheffield

, Matsui, and benchman Bubba Crosby

, the focus has been on the Yankees outfield for much of the season.

There's no denying that the outfield could use some stability (sorry,

Terrence Long just aint cuttin' it

), but the Yankees Chick is getting fed up with the daily barrage of Soriano/Abreu/Stewart rumors when it should be clear to any fan with 2 eyes (even 1, really) that the Yankees have bigger fish to fry in the pitching sector.





Let's take a gander at the

Yankees' starting pitchers:





Mike Mussina – 8-2, 2.76 ERA


Randy Johnson – 7-5, 5.63 ERA


Shawn Chacon – 4-1, 5.23


Chien-Ming Wang – 6-2, 4.52


Aaron Small – 0-3, 8.20


Jaret Wright – 3-4, 4.44
With the exception of Moose, whose performance has far exceeded any expectations the Yankees Chick has held for him since his first day in pinstripes, each Yankee pitcher that has started a game is giving up at least 1 earned run per 2 innings of pitching. Those 6 starters have combined to give up 180 earned runs thus far, and 3 of them (Unit, Small, and Chacon) don't even rank in the top 115 starting pitchers in the league. Such a performance would perhaps be tolerable from a 5th starter, but when 5 of the Yankees' 6 available starting pitchers fall into that category there is simply no ignoring that the rotation is falling short.
Why, then, does the spotlight remain on the outfield? The Yankees' current outfielders include:
Johnny Damon - .293 BA, .366 OBP, 30 RBI
Melky Cabrera - .272 BA, .375 OBP, 12 RBI
Bernie Williams - .260 BA, .303 OBP, 28 RBI
Kevin Thompson - .383 BA, .420 OBP, 9 RBI
The addition of Soriano or Abreu would certainly be a huge boon to the outfield and the lineup, but would the extra run per game or one fewer error per month give the Yankees the push they need to maintain a hold on the AL Eastern Division? Probably not. On the other hand, what impact would the addition of a quality starting pitcher have on the Yankees' record? If the Yankees were to snap up Zito or Willis, it is conceivable the extra 8-10 wins they would contribute could put the Yankees back on top.
If Cashman decides to deal for an outfielder, the Yankees' offensive dominance will increase. However, with the starting pitching giving up runs the way they have been, the Yankees will still have to score an average of 5 runs per game to win, a goal that is sure to wear out even the best offense. An arm like Zito's, though, would take some of the pressure off the offense and allow the Yankees the chance to take the division out of the reach of the Red Sox or the Blue Jays without pressuring the offense to hit 15 homers a week.
There's still a good 7 weeks before the July 31st trade deadline, so there is still hope that Cashman can convince Steinbrenner to pick up an arm instead of a bat. The only problem, then, will be figuring out who the Yankees can deal…
Labels: rumors
posted by Yankees Chick @ Tuesday, June 13, 2006


Cano, Melky, and Strawberry Warm Hearts, Distract at Least a Few Kids from Yankees Recent Performance
Monday, June 12, 2006
After a week riddled with bad Yankees mojo, from Sheffield's impending surgery to the Yankees 4-game losing streak, the Yankees Chick was pleased to stumble upon some sappy tidbits. Cano, Cabrera and 2-time cancer survivor Darryl Strawberry paid a visit to cancer patients at the Joseph M. Sanzari Children's Hospital at Hackensack University Medical Center in New Jersey last week, posing for pictures with the kids, signing autographs and doing cheer-up duty. Strawberry offered a survivor's perspective the patients, encouraging them to think positively and letting them know that he knows how they feel. Cano was particularly affected by the visit and vowed to continue visiting kids.

Labels: do-gooders, happy time
posted by Yankees Chick @ Monday, June 12, 2006


Sheffield Going Under the Knife for Wrist Surgery; Out Till at Least September
Thursday, June 08, 2006

Shef has already spent most of the season on the disabled list, and after last week's MRI confirmed that he needed

surgery to repair a torn ligament and dislocated tendon in his wrist

, he will be out for at least 3 more months before he can return to the Yanks' lineup. The injury in question occurred back on April 29th when he slammed—full force—into Shea Hillenbrand at 1st base. Brian Cashman announced the surgery today, stating that, though serious, the injury

will not prove to be season-ending

for Sheff.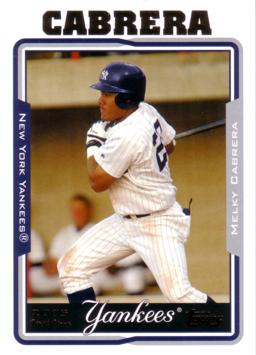 The Yankees have had to shuffle their roster almost daily this season, what with the injuries to Sheff, Matsui, Chacon, Bubba, Jeter, Mariano, et al. The seemingly never-ending parade of injuries plaguing the Yanks is disappointing, but the real surprise came not in the injuries but in their aftermath. Melky has exceeded even the biggest expectations the Yanks had for him; Torre noted that even if Melky were to hit a slump for the rest of the season his contributions during May and June are so impressive that he is confident Melky has what it takes to be a Yankee. Bernie, who was signed as a DH and 4th outfielder and was predicted by many to be virtually worthless this year, has stepped up to the plate (pun intended) both offensively and defensively: he's hitting .269 and has made just 1 error in the outfield. With Giambi playing DH more often, Andy Phillips has been manning 1st base and despite a slow start (he was hitting .208 as recently as 10 days ago) he has shown perseverance and power, including a recent hot streak that has boosted his average all the way up to .284. Even Miguel Cairo, who filled in for A-Rod at 3rd during his flu-induced absence and has been playing shortstop while Jeter's wrist is hurt, has been playing decently.
Before tonight's game against the BoSox, the Yankees' record stood at 35-22, a record better than all but 2 MLB teams (Tigers and White Sox). They've managed to beat some of the best pitchers in the league and have shut down power-offenses, all without the help of Sheff or Matsui, and even Jeter as of late. Sheffield's surgery is bad news, but I imagine it will prove to be no more than a blip in a season of tough luck and incredible playing by the remaining roster.
Labels: bern bernie bern, injuries
posted by Yankees Chick @ Thursday, June 08, 2006


Rain in New York Postpones Today's Game vs Red Sox
Wednesday, June 07, 2006
The Yankees and Red Sox will be getting an unexpected day off tonight, thanks to some wild weather. This is the second match-up the Sox and Yanks have missed this season (the first was May 2nd at Fenway), and there is no scheduled make-up at this time.
Labels: red sox rivalry
posted by Yankees Chick @ Wednesday, June 07, 2006


Yankees Stock up on Pitchers on Day One of MLB Draft
1st round pick Ian Kennedy went 24-12 in three seasons with USC

Brian Cashman has stressed the importance of building up the Yankees' farm system, and their draft picks yesterday reflected that sentiment. The Yanks selected pitchers in 14 of the 18 rounds on day 1; their other picks were 3 outfielders and a shortstop. 15 of the Yanks' 18 picks were college players and 3 were drafted right out of high school, including 3rd round pick Zachary McAllister. Director of scouting Damon Oppenheimer described McAllister as "a real quality high school pitcher. He's got a good arm, can pitch and throw strikes. He's a big kid." The Yankees' first round pick (21st overall) was Ian Kennedy of USC, who was the Pac-10 Pitcher of the Year in 2005 and pitched for Team USA in 2004-2005.

Oppenheimer was very satisfied with the Yanks' selections and feels confident about the future of the team's farm system. It will take several years to see what impact these players will make on the organization, but as Oppenheimer said, "If we can sign all of the guys we took, we'll have had a heck of a draft."*




*Assuming he's not using "heck of a draft" in the same vain as the "heck of a job" Dubya felt FEMA was doing during Katrina.

Labels: farm hands
posted by Yankees Chick @ Wednesday, June 07, 2006


Yankees Start 4-Game Series With Red Sox Down ½ Game in AL East
Monday, June 05, 2006
After a 7-game road trip to Detroit and Baltimore, the Yanks will be back at home tonight to
face the first-place Bosox in a 4-game series. After yesterday's loss (and by loss I mean embarrassing display of incompetent pitching) to the Orioles, the Yanks fell behind Boston by a half game. The two have already met up 7 times this year, and the Yankees have come out on top 3 times. A win tonight will put the Yankees back in first place in the division and will even the Yanks' season record vs. the Sox—neither of which are very important at this point in the season, but the spirit of competition between New York and Boston is always on full blast!

Here are the vital stats for tonight's game:
Pitching: Mike Mussina vs. Josh Beckett. Beckett has been solid for the Sox thus far, winning 7 and losing 2 with a 4.46 ERA, but his performance pales in comparison to that of Moose. Mike is 7-1 on the season and is the only pitcher in the MLB to have at least 10 starts and to have thrown at least six innings in those games, and his 2.42 ERA is the best in the American League. His last start was a 1-run (unearned!) complete game, and he has been so dominating this year that I have full confidence that he will be able to shut the Sox down tonight.
Injuries: Sheffield is still on the DL, and Mariano is likely still not available (due to last week's shoe-tying induced back spasms). A-Rod seems to have recovered from his stomach virus, but it is unclear whether Giambi is still being bothered by the virus. Jeter should be able to play despite getting whacked in the hand by a pitch this weekend.
Game time is 7:05pm EST
Labels: injuries, red sox rivalry
posted by Yankees Chick @ Monday, June 05, 2006


Mariano Rivera and A-Rod Add Their Names to Yankees' List of Wounded Soldiers
Friday, June 02, 2006
After all the effort Mariano has had to put forth for his team recently—including pitching 3 innings during Tuesday night's game—and the way the Yanks have been getting injured this year, it should come as no surprise that Mo has become the latest New York casualty. While putting on his shoes before batting practice on Thursday, Mo was struck by extremely painful back spasms, bad enough to necessitate help just to get back on the team bus. "When it happened, I couldn't believe it," Rivera said. "I thought it was a little thing, then all of a sudden, I couldn't move my legs." His condition is listed as day-to-day, but he is not expected to pitch at all while the Yanks are in Baltimore.
A-Rod will also be sitting tonight's game out, and possibly tomorrow as well, due to some sort of "virus". Torre has had to shuffle his lineup around considerably lately, and without A-Rod to bat 3rd or 4th he has had to make some interesting changes. Here is tonight's starting lineup:
Johnny Damon, CF (.279)
Melky Cabrera, LF (.310)
Derek Jeter, SS (.342) [wrist feeling better after 2 days of rest]
Jason Giambi, DH (.280)
Bernie Williams, RF (.266)
Robinson Cano, 2B (.306)
Andy Phillips,1B (.273) [on a hot streak!]
Miguel Cairo, 3B (.250)
Kelly Stinnett, C (.235)
Labels: a-rod trouble
posted by Yankees Chick @ Friday, June 02, 2006


It's Official: Clemens is a Houston Astro Once More
Thursday, June 01, 2006
The Astros may be 7.5 games behind Pujols and the Cards, but they're not too worried about losing their NL Champion title just yet. Roger Clemens has agreed to pitch one more season for Houston, and that could be just the boost they need to push the Cardinals out of the lead. The Rocket agreed to a $22,000,022 1-year contract with the Astros, of which he will receive about $12.8 million for the 4 remaining months of the season.
Clemens will start the season in the minors (where his son Koby plays, coincidentally), but is expected to make his first start for the Astros by last June.
"I have to now take the next step to get my body ready to come back, to be effective, win games and do what I'm used to doing, and that's being extremely competitive at a high level. My body feels good. Condition-wise, I'm great. I need some game experience. I haven't felt soreness in my legs like actual game situations." - - Roger Clemens

posted by Yankees Chick @ Thursday, June 01, 2006


Yankees Chick Tweets!
Fun Fact O' The Week

In 2009 Curtis Granderson published a book: All You Can Be: Dream It, Draw It, Become It! Granderson "shares the lessons that he learned growing up--the importance of family and choosing the right friends, the power of listening and staying positive, and most important, the value of being yourself."
Interleague Play: Love it or Leave it?
Previous Poll Results
Which Former Yank Free Agent Would You Most Like to See in Pinstripes in 2010?
Johnny Damon
53%
Chien-Ming Wang
26%
Xavier Nady
8%
Jose Molina
6%
Jason Giambi
6%
Jeff Weaver
2%
Catch up! Recent Posts
What'd You Miss? Archives
About Me
Name: Yankees Chick
Home: San Diego, CA, United States
About Me: Just your average 26 year old Yankees lovin' gal from the SD.
See my complete profile
Blog Faves
Subscribe
Add to RSS

Search!