Heroes (Advertisers)
Purchase the best NY Yankees Game Tickets from Ticket Brokers Vivid Seats which include NY Giants Tickets, New York Mets Tickets, Knicks NBA Tickets, Rangers Hockey Tickets, Islanders Tickets, Jersey Boys Tickets, , Madison Square Garden Event Tickets New Jersey NBA Nets Tickets and Devils NHL Games .

---
Find New York Yankees tickets and other hot MLB tickets at CTC! We carry Cardinals baseball tickets, Red Sox tickets in Boston, Detroit Tigers tickets, Dodgers tickets and World Series tickets as well as New York Giants tickets and hot show tickets, including Coldplay concert tickets, Conan O'Brien tickets, NY theater tickets and Broadway show tickets.

---
---
View blog authority

Mattingly On Hall of Fame Ballot for Sixth Straight Year; Crossing His Fingers but Not Holding His Breath
Friday, December 30, 2005
"The Hall of Fame would be a great honor, but I do not live my life based on whether or not that will ever happen. So in the grand scheme of things, it is not that important."

- - - Mattingly

Hall of Fame voters will be questioning their eyesight when they see old Donnie Baseball's name on the ballot again this year – "

wasn't he on the ballot last year? And every year before that?

" This year marks the sixth consecutive year that Mr. Mattingly is up for induction into the Hall of Fame, and despite his talent and popularity, I don't think six is going to be his lucky number.

There's no question that Mattingly had an exciting and illustrious playing career. He played with the Yankees from 1982 all the way through 1995 and maintained an impressive .307 overall batting average.

He won nine Gold Glove awards, was a six-time all-star, won three Silver Sluggers and was named MVP in 1985

. During the six-season span of 1984-1989 Mattingly averaged .327 with twenty-six home runs and 114 RBIs per season. In the late eighties it seemed that Mattingly was on a straight path towards Cooperstown.

Unfortunately, Mattingly's body wasn't interested in Cooperstown. The last six years of his career were slowed down by perpetual back problems. His average dropped and his power plummeted, and he didn't reach more than 86 RBIs in any of his final six seasons. He wasn't awful by any means; he continued to hit a good amount of doubles and didn't let his BA dip below .256, but

he was no longer playing like a Hall of Fame athlete

.

If the voting were based only on a player's best years, then Mattingly (and countless others) would be a shoo-in. And even with his injury-ridden years, his numbers add up to a great player. So why no Cooperstown?

The bottom line is that Mattingly's

career as a whole

simply does not warrant HOF status. He's a great athlete, a well-loved personality and a great coach, but when you stack his numbers up to guys that were voted into the HOF

he just doesn't compare

. Donnie Baseball will always be remembered as one of the greats, but its doubtful that he will join Cobb, Winfield, Babe, Whitey and the rest in the Hall.

Labels: accolades
posted by Yankees Chick @ Friday, December 30, 2005


Baseball Terms, Definitions: Anybody's Head Spinning?
Thursday, December 29, 2005
For everyone who is sick of not knowing what Jim Kaat is referring to when he comments on an "

E-3

", or not quite understanding why

some fly balls are bad and some are just sacrifices

, I thought I'd put together a glossary of sorts for the blog. I'd love to have a stat-decoder, for all that WHIP/OPS/ alphabet soup, and a list of all the official score-keeping abbreviations and terms.

So, my friends, I ask you:

what would you like to see clarified, identified, defined, exemplified

?
posted by Yankees Chick @ Thursday, December 29, 2005


It's Official: Cairo Will Be Back with the Yanks in 2006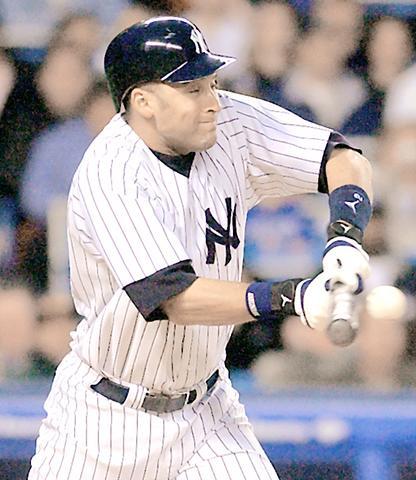 Love that Sac Bunt!



Much like

Grover Cleveland

was elected to two non-consecutive presidential terms,

Miguel Cairo will be back in 2006

for a second term in the Yankees' infield. Cairo and the Yanks have come to terms on a deal that will net Cairo

one million dollars for one season of utility duties

.

In the Bronx in 2004, Cairo had one of the

best seasons of his career

. He hit .292, his OPS was .763, and hit a career-high six home runs. The Yankees would have re-signed him for the 2005 season, but decided to go with Tony Wommack due to his cheaper asking price. Of course, we all know how poor Tony worked out…but if Cairo had been re-signed back then, Cano would most likely not be with us!

Last year with the Mets Cairo's performance was a far cry from his 2004 season. He hit .251 in 100 games and his OPB was a sorry .296. These numbers do invoke a bit of fear in Yankees fans, but I do anticipate him to do better in the upcoming season. He seems to do well in Yankee Stadium -

he was a tough out for opposing pitchers

- and acting as a utility infielder instead of the everyday second baseman should increase his chances for success in 2006.
posted by Yankees Chick @ Thursday, December 29, 2005


Damon-Bernie Stat Comparison Brings Arguments and Bad A-Rod Puns
Wednesday, December 28, 2005
After last week's signing of

Johnny Damon

and the accompanying stat-chat,

I posted a comparison

of Bernie's and Damon's OPS throughout their respective careers. The post illustrated the fact that while Bernie's performance has slowed down over the years, his

career performance has been steady

and his decline followed a natural progression. On the other hand, however,

every year has been up and down for Damon

; his 2005 season appears to be the one high note standing out in an otherwise standard above-average career.

The post brought forth several interesting comments on the performances of both Bernie and Damon, but one anonymous reader,

possibly personally jilted by A-Rod

, thought that it would be wise to analyze the stats of the Bronx's third baseman:



"The guy whose stats you should analyze is that choke artist A-Fraud"



Alright,

Senor Anonymous

. Let's take a gander at A-Fraud's stats. We better look closely so that we can point and laugh at how much he chokes and what a fraud he is.

Seasons: 12
Career BA: .307
Highest BA: .358, 1996
Lowest BA: .204, in 17 games in 1994; .235 in 1995
Career OBP: .385
Highest OBP: .421, 2005
Lowest OBP: .241, in 17 games in 1994; .264 in 1995
Career OPS: .962
Highest OPS: 1.045, 1996
Lowest OPS: .445, in 17 games in 1994; .672 in 1995
BA with RISP: .304
BA with Bases Loaded: .317
Career Fielding Percentage: .976
Career Errors: 156
Highest Error Season: 1997, 24
Lowest Error Season (Full-Seasons Only): 2003, 8

Looking at these numbers, I have to say that I'm having trouble figuring out how A-Rod might have been fraudulent. His averages are consistently high, his OPS is amazing, and he comes through when it counts - -

with runners in scoring position and with the bases loaded

.

When Senor Anonymous referenced choking, I assume that what he was referring to A-Rod's post-season performance.

Post-Season Appearances: 5
At-Bats: 118
BA: .305
OBP: .393
Hits: 36
HR: 6
RBI: 16

The only

"choking"

I can really see with A-Rod's post-season performance would obviously have to be the five games he played against the Angels in 2005. He got just two hits in his fifteen at-bats, no RBIs, and struck out five times. I'm certainly not going to say that I wish he would have performed better, but I do think that it's

incorrect and unfair

to place all the blame on him. Not to mention the death of his uncle, which occurred right before the start of the ALDS and reportedly affected A-Rod's ability to play at his fullest potential.



Assuming anyone is still even reading this

, tell me: am I wrong? Am I missing something? Perhaps misinterpreting the numbers? Because I'm getting pretty sick of people selling A-Rod short and referring to him as a fraud or a choker. He may be a pretty-boy, and he may care about fashion more than the average high school cheerleader, but

he is a damn good athlete and I am quite happy to have him on my team

.

Labels: bern bernie bern
posted by Yankees Chick @ Wednesday, December 28, 2005


Former Yankee Pitcher Jeff Reardon in Trouble with the Law
Eighties

star relief pitcher Jeff Reardon

has returned to the headlines this week in a much less flattering light. Reardon was arrested in Florida on Tuesday after using a note to rob a mall jewelry store of a whopping $170.00. The note allegedly informed the sales clerk that he had a gun and was robbing the store. Police caught him at a nearby restaurant and said that he was not armed and did not resist the arrest.

In a move that would bring satisfaction to

Tom Cruise

's heart, Reardon reported that the robbery – which is far out of his usual calm character – was due to the

antidepressant medication

he was taking. Reardon has been taking the drug since the heartbreaking death of his youngest son last year and has also been taking medication for an angioplasty procedure earlier this month. Reardon apparently explained to police that he "

flipped on [his] medications and didn't realize what [he] was doing

". Sources ranging from his former team's analyst to city police agree that Reardon has never caused any trouble in the past.

I would love to get a statement from his prescribing doctors. Had they been negligent in their evaluation of the drug's effects on Reardon? I wonder if the combination of the antidepressant and the heart medication caused regrettable side effects….
posted by Yankees Chick @ Wednesday, December 28, 2005


Joe Randa or Miguel Cairo for Utility Man: Let's Duke it Out!
Tuesday, December 27, 2005
The

Nomar

excitement has come and passed, but the Yankees' need for a backup infielder/DH is still alive and pressing. Signing one-time Yank second baseman

Miguel Cairo

has already been discussed here, but the Yankees are keeping their options open and looking around at other available players. The latest name to be dropped is that of

Joe Randa,

who became a free agent this year after splitting the 2005 season between the Reds and the Padres.

Randa, who has spent time all over the infield in his career,

could be just what the Yankees' doctor ordered

. With A-Rod, Jeter and Cano locked into their respective positions, what the Yankees would be wise to find is someone that can split the first base duties with Giambi and be available in the (

DON'T JINX IT

) unfortunate event of a Jeter/A-Rod/Cano injury. Randa's experience is mainly at second and third base, but after watching him play with the Padres last season I'm pretty convinced that he is versatile and would do a fine job at first. Cairo would almost certainly come at a lower price, but Randa would bring a bigger bat – he hits a decent amount of homers and is very good with the doubles. Randa's career BA is .285, his career OPS is a nice .768 and last year it was .787. Granted, he's getting a tad advanced in age – he turned 36 this year – but his performance really hasn't shown much signs of slowing over the years.

It's still not clear if the Yankees are very seriously looking into Cairo OR Randa, but I definitely think that signing someone for that duty is essential, and

time is of the essence

!
posted by Yankees Chick @ Tuesday, December 27, 2005


Matsui Just Says No To Japan; WBC Could Be Harmful To Your Health
Our own

Hideki Matsui

has opted to join

A-Rod

on the sidelines of the

WBC

this March. Japanese baseball legend

Sadaharu Oh

, who is serving as Japan's coach for the tournament, was very disappointed in Matsui's decision but has said that understands. According to Oh, Matsui explained to him that "

he wanted to be world champion with the Yankees, and that next year was very important to him

." Matsui is hoping for his first championship ring in 2006 and was concerned that playing his little heart out in March could impede his performance in the regular season.

Even with A-Rod and Matsui's decisions to pass on the WBC, the Yankees will still be represented by Jeter (USA), Robinson Cano (Dominican), Damon (USA), Wang (Taipei), and Bernie (Puerto Rico), and others like Mariano still have not ruled it out.
posted by Yankees Chick @ Tuesday, December 27, 2005


Bernie Williams vs. Johnny Damon at the Plate
Friday, December 23, 2005
Poor Bernie has been at the center of much criticism this past year. He's been disparaged for his ever-weakening throwing arm, his declining batting average…Over the past year Bernie has become viewed as some soft of

albatross

dragging the Yankees down both in the field and at the bat.

I beg to differ. Last year was his fifteenth season and he was still able to play in 141 games. His batting average was only .249, but he had 19 doubles and 12 home runs, and

how many times has he come through in the clutch

?

Now the Yanks have signed

Damon

, who has had a great career thus far. Boston fans loved him, Yankee fans coveted him, and now he'll be in the Bronx for the next four years. He's still young, just 32 right now, but will he be stealing 18 bases and hitting 30 doubles when he's 36? Doubtful.

Over at Sons of Sam Horn, an elitist BoSox forum, the writers put together this Bernie/Damon comparison that I found to be quite revealing.



As you can see,

Bernie outdoes Damon at the plate

. His career OPS is significantly hire than Damon's is (or ever will be). Bernie's hitting followed a very typical natural pattern: in his first years he struggled, improved steadily, then reached his peak at around 30 and slowly - but not drastically - began his decline. Damon, on the other hand, has been much more

inconsistent

. At 26 he hit a high note, but the very next year his OPS was down over 2 points. Every year since then has been up and down; his hitting seems to follow no natural pattern.

Damon is certainly talented and I am not down-playing that. However, his erratic slugging and batting averages (he hit .273 in 2003, then .316 in 2005) concern me.

Do we really know what to expect in '06?

With Bernie, his decline in stats is due to one factor: his age. He is an excellent athlete and even at his "worst" (2005) he still drove in 64 runs and had a better OBP than Damon did at 27. Let's all just say a collective secular prayer that Damon stays on the high he's been on for the past two years.


Labels: bern bernie bern
posted by Yankees Chick @ Friday, December 23, 2005


Damon Shaved For The Yankees! It's Fashion Show Time!
Damon's signing has been in the headlines for a few days now, so the official introduction today didn't bear any news that we fans weren't already privy to. The press conference did serve one purpose other than an official announcement of Damon's arrival in the Bronx:

fashion show

!

Damon's long locks and apparent

razor-use ineptitude

has been the talk of the town since his contract with the Yanks was announced earlier this week. Down in Boston, players are permitted to wear facial hair and long (

lustrous

!) hair, but in the Bronx things are taken a bit more seriously. The Yankee's policy on personal appearance is very strict; players must keep their hair short and no facial hair under the lip is allowed (for some reason, the

creepy

porn-star mustache

is encouraged). Before being allowed to don the pinstripes, Damon had to head to his stylist for a much-publicized

Yankee-fication

.

The first tip-off that this situation was taking a

severe turn towards metrosexual land

was the fact that rather than heading to a barber (or how about the bathroom with a good old Bic razor?), Damon opted for a stylist. Call me old-fashioned, but I just don't see any need for a man to go to a stylist, unless, say, he had a bad run-in with a

falling tub of bleach

and needs help fixing it. It is one thing for a Ryan Seacrest to have beautiful golden streaks put in his hair, but it is quite another for a baseball player whose hair will be smooshed under either a hat or a helmet 80% of the time. I simply do not see the need. And honestly folks,

how hard is it to shave

?! He needed professional help? I don't have any experience with facial hair, but I have certainly shaved my legs and I managed a-ok without any paid help.

Of course, during the renovation process Damon made sure to take plenty of photos. Very glamorous! I am impressed with his

soft, supple skin and his lustrous, shiny

hair

….Damon is quite a

delicate flower

of a man. Let's just hope he doesn't mind getting his uniform grass-stained in the outfield from time to time.
posted by Yankees Chick @ Friday, December 23, 2005


Yankees-Red Sox Free Agent Swap: Damon to the Yanks, Flaherty off to Boston
Thursday, December 22, 2005
What's a team to do when their

all-star free agent

accepts a deal with their perennial rivals? If you're Boston, you make a half-assed attempt to recoup your loss and sign a free agent from said rival team.


John Flaherty, who acted as

Jorge Posada

's second banana since 2003, was passed on by the Yanks this year when his contract ended. He hit just .228 during his tenure in the Bronx, and while he caught well and actually served as

Randy Johnson

's personal catcher he didn't perform well enough to justify offering him another contract. Boston, however, was apparently in the market for an aging catcher whose OBP hasn't topped .300 in six years and snapped up the opportunity to add Flaherty to their roster. Flaherty's one-year deal is reportedly worth $650,000.

Perhaps Flaherty's signing has nothing to do with Damon becoming a Bomber, but personally I think it's fun to believe that this was Boston's meager way to take something back from New York.

Labels: red sox rivalry, roster moves, signings
posted by Yankees Chick @ Thursday, December 22, 2005


Ex-Yankee Matt Lawton's "Desperate" Steroid Use

In the latest issue of Sports Weekly, one-time part-time Yank

Matt Lawton

came clean about the

steroid use

that will cost him the first ten games of the 2006 season. Lawton joined the Yanks towards the end of the 2005 season and hit just .125 in 21 games, apparently due to "pain". In the article, he failed to mention where this pain was, so let's assume it was it was in his

lonely heart

.

In the issue, Lawton tells Sports Weekly how on September 20th he injected himself with a

veterinary steroid

. He played well the following day – he hit a home run – but ironically was tested for steroids

the very day after the only time he'd ever used one

! Yes, that was sarcasm.



"I wasn't playing well enough to be on a Little League roster, let alone be on the roster of the New York Yankees. I just wasn't physically able to do the job. I had never been in the playoff hunt before. So I did something that will always haunt me. It was such a stupid thing, but I was desperate. Maybe it was the pressure of playing in New York, I don't know. I never had the urge to take any of that stuff before, but I was talking to some guys, and they guaranteed it would get the pain out." - - - Matt Lawton

Labels: steroids
posted by Yankees Chick @ Thursday, December 22, 2005


Bernie Will Be Back to Attack in 2006 - - On the Bench, Anyway
Wednesday, December 21, 2005
Even though the exciting signing of

Johnny Damon

isn't yet chiseled into proverbial stone, the Yankees have already lined up a backup for him.

You may be familiar with the man they selected as their fourth outfielder/DH. I'll give you some hints:

1. He has played for the

Yankees

for the past fifteen years and has been their starting centerfielder for thirteen.
2. He earned twelve million dollars last season
3. He's hit

275 homers

in his impressive career, making him sixth in the Yanks' all-time list.
4. He is a classical guitarist
5. His career batting average is the same as

Mickey Mantle

's - .298

Still scratching your head? If so, I suggest you check the URL and realize that you are reading

Yankees Chick,

not

howtoinstallagarbagedisposalinyourbathtub.com

(I can see how you would get us confused).

Yes, I'm talking about

Bernie Williams

. Some have called him washed-up, useless, slow, past his prime…even I'm guilty of referring to him as "Old Man Bernie" (endearingly!). 2005 marked the end of his contract, and when

Cashman

made it clear that Bernie would definitely not be the starting centerfielder in '06 many feared that he would end up spending the last year or two of his incredible career down in Tampa Bay or Kansas City. Dealing with Bernie's free agency was not a high priority for the Yankees; with the gap in centerfield and the many holes in the bullpen signing and aging backup player seemed to not even be in Cashman's master plan. However, with Ruben Sierra gone and Bernie's arbitration deadline looming it made perfect sense to sign him as a fourth outfielder benchman.

Bernie's one year deal will yield him $1.5 million and offers incentives based on performance. This year will be his

sixteenth

in a Yankees uniform, the only major league uniform he's ever worn.

Labels: bern bernie bern
posted by Yankees Chick @ Wednesday, December 21, 2005


Dotel Nearly a Done Deal
Tuesday, December 20, 2005
"I feel very happy with this contract. This team has a lot of tradition, and it pleases me to know that they want me to pitch for them." - - - Octavio Dotel



The Yankees have just about locked up

Octavio Dotel

for the 2006 season, according to his agent Dan Horwits. The deal will earn Dotel up to

five million dollars – two million base salary plus incentives

– even though he likely won't even be able to pitch until about midway through the season.

Despite having a rough season last year due to his ailing arm and undergoing

Tommy John surgery

last summer, both Dotel and the Yankees are optimistic that he will be in top pitching form in 2006. Dotel's doctor noted that the surgery itself went very well, and that he was able to use a

long tendon from Dotel's leg and wrap it three times around his elbow

; aside from that sounding downright creepy it offers hope for a quick and complete recovery. Only time and rehab will tell if Dotel can get his arm back in action in the Bronx, but I'm glad Cashman decided to invest a year into him.

Labels: roster moves, signings
posted by Yankees Chick @ Tuesday, December 20, 2005


Yankees and Damon Reach "Preliminary Agreement": Color Me Surprised!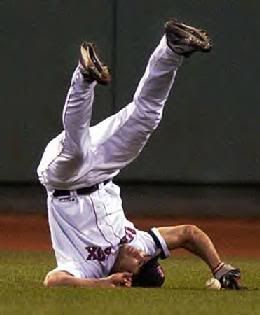 Next stop: the Bronx! nonstop train, say your goodbyes!



The deal is still not official and has yet to be confirmed, but according to the AP, the

Yankees and Johnny Damon

have come to terms on a preliminary contract. Damon's arbitration deadline with the sox isn't till January eighth, and it was looking like the Yankees wouldn't make a serious move on Damon (not that kind of move, settle down) until he was officially through with Boston. The Yanks surprised us all by swooping in and snatching Damon up from under Boston's nose.

As I said, the deal is still being negotiated and Damon will still have to pass the obligatory "do you use steroids" physical. The preliminary contract will net Damon a sweet

fifty-two million dollars and will secure his place in the Bronx for the next four years.

Agent Scott Boras' original asking price of seven years/eighty-four million dollars this year really put me off; I really didn't think he end up signing with any team other than the Sox. Four years for fifty-two million dollars is certainly nothing to sneeze at, but I have to say I'm somewhat surprised that Boras "settled" for less than five or six years.

I hope Damon is enjoying his last few moments with long hair and scruffy facial hair…the Yanks won't be having any of that! Perhaps Bubba Crosby can do it for him; he may be in need of a job...

Labels: roster moves, signings
posted by Yankees Chick @ Tuesday, December 20, 2005


Mussina to Steinbrenner: Oswalt Got a Bulldozer, Where's My Harley?
"must...get....bulldozer...."



To anyone that didn't quite understand what "incentives" meant in a player's contract, the answer, apparently, includes

heavy duty construction equipment.



Roy Oswalt received a very interesting bonus for his MVP-worthy work in the ALCS this year: a bulldozer. Before starting game six, Astros owner

Drayton McLane

told Oswalt that if he earned a "W" in the game he would reward him by buying him anything he wanted. Just as the rest of us normal people would, Oswalt logically chose a

BULLDOZER

. He reported that it was his "childhood dream" to own one (again, just like the rest of us).

In order to award Oswalt the bulldozer, the Astros had to modify his contract to include a "

bulldozer addendum

". I'm sure that it was the first ever (and likely last, unless Oswalt runs this one into the barn) of its kind.

The Astros organization also donated

forty-four toy bulldozers

– in honor of Oswalt's jersey number – to the Star of Hope Mission. Thanks to the Astros and Oswalt's "dream", there will no doubt be forty-four little boys smashing bulldozers into their older sisters' feet come Christmas morning!

Labels: accolades
posted by Yankees Chick @ Tuesday, December 20, 2005


Yankees Zero in on Signing Octavio Dotel
Monday, December 19, 2005
We may not have signed

Nomaahhh

(or B.J. Ryan, Juan Pierre, etc) but we certainly have made efforts to improve our bullpen. Cashman's latest target is

righty reliever Octavio Dotel

, who has played for the Mets, Astros and Oakland thus far in his career. Dotel is noted for his hard throw, which actually got his arm into some trouble – he had to have Tommy John surgery last season. His career numbers are good, and aside from 2005 he has consistently played in at least 70 games. I am slightly concerned about the Tommy John surgery; I realize that it is pretty common nowadays but

I still wonder if Dotel will be rehabbed and up to his usual speed by spring.




Dotel has received an incredible eleven offers since becoming a free agent, but has managed to whittle his choices down to four teams, including the Yankees. He will most likely make his decision soon, and according to the Post the Yankees "feel good about their chances".

Labels: free agency/arbitration
posted by Yankees Chick @ Monday, December 19, 2005


Need an Off-Season Yankees Fix? Take The Tour!
Winter is rough for a baseball fanatic.

It's been more than two months since the last Yankees game and spring training doesn't start for another four.

By January we'll be so desperate for team sports we will take a (very) brief interest in hockey (

where did Wayne Gretzky go?

) and in February we'll be prematurely calling our cable companies to get a jump on ordering the

Extra Innings package

.

By the time March finally rolls around we'll be so excited for spring training we'll even watch the Royals' warm-up – hey, it's something!

Short of following football or obsessively clicking the "refresh" button on ESPN in hopes of some sort of updates, there are options for a hardcore Yanks fan to get their fix during these lean months. There's always blogs (subliminal message: read mine), and plenty of baseball-themed movies to waste an afternoon with. Of course, those who live in Yankee-Ville have an edge over the rest of us: they can go see the stadium. That's right folks – for those of you who weren't aware, the Yankees offer a shriek-worthy tour of the stadium daily!

I went on the tour last year during a visit to the Big Apple, and if you live in NY and haven't been yet you are missing out on a great experience. The tour costs just fourteen dollars and is very comprehensive: we saw the stadium, the press boxes, the field, Monument Park, and the dugout. I made sure to sit exactly where Torre sits in the dugout, and also checked out where Jim Kaat and the rest of the YES crew sits. Seeing Monument Park and all the retired numbers was amazing; I felt like I was stepping into a little piece of history. The most exhilarating part though, even more so than being on the field or in the dugout, was getting to see the clubhouse. Seeing all the lockers and what the different players keep in there felt like I was being let in on a secret. They don't allow any picture taking in the clubhouse, though, so I'll have to report what I saw from memory:

- Tanyon Sturtze had a copy of US Magazine

- Randy Johnson's jersey looks like it could fit King Kong

- Bernie has the best, biggest locker (the tour guide informed us that when the Unit came to pick out his locker, he told the Yankees that he wanted to be right next to Bernie!)

- Giambi had no less than four pairs of shoes in his locker

The tour guide was great as well. To be honest, I'm not sure exactly what his role with the Yankees was, but he was very knowledgeable. Surprisingly, he had nothing but good things to say about his boss (Steinbrenner), and showed us the three World Series rings George had given him!
posted by Yankees Chick @ Monday, December 19, 2005


Nomar Garciaparra Signs with the Dodgers; Yankees Foiled Again
Sunday, December 18, 2005
Just as the

rumor mill

predicted,

Nomar

has chosen to sign with the

Dodgers

instead of the Yankees or the Indians. The deal is apparently worth about six million dollars and incentives that could bump up the salary to eight million.
The Dodgers will apparently be posting Nomar at first base, effectively making their

newfangled infield

very tight. Their 2006 infield now includes another former Sox player Bill Mueller at third, young ex-Brave Furcal at short, Jeff Kent at second and now Nomar at first. The Dodgers are also looking to sign Kenny Lofton and Reggie Sanders for their outfield, moves that could actually make at least one team in the NL east not a complete joke.

Nomar's choice obviously puts the Yankees out of another gap-filler option. The Yankees are still looking at Damon for the outfield, and as I mentioned yesterday Cairo is an option for a backup infielder.

I have a feeling that Nomar will regret his decision to pass on the Yankees. After all, if he had chosen the Yankees he wouldn't be stuck with the dilemma of trying to squeeze "Garciaparra" onto the back of a jersey...


Labels: roster moves, signings
posted by Yankees Chick @ Sunday, December 18, 2005


If No Nomar, How About Cairo?
Saturday, December 17, 2005
Could Cairo be back in pinstripes in 2006??
Even though there is still no official word on where Nomar will end up in 2006, rumors are swirling that it is likely that he will sign with the Dodgers rather than the Yanks. The Yankees were hoping to sign Nomar as an all-around infielder and DH, but if they can't acquire him it looks like they may turn to one-time Yankee Miguel Cairo to fill the same holes.
Cairo was the Yanks' everyday second baseman in 2004 and hit .292 in 122 games. Last season with the Mets he didn't do as well; he hit just .251 with a miserable .296 OBP. He may not be a power hitter or the speediest guy on the bench, but as a cheap backup infielder he may be just what the doctor ordered. Rather than paying eight million dollars for Nomar, the Yankees could conserve their assets and would likely be able to acquire Cairo for more like one million dollars. Unlike Nomar, who has played almost every game of his career at shortstop, Cairo has played every position from first base to the outfield. For what the Yankees are looking for in Nomar, Cairo could actually be an even better choice.
Labels: rumors
posted by Yankees Chick @ Saturday, December 17, 2005


A Trade! Minor Leaguer Ben Julianel for lefty Ron Villone
Friday, December 16, 2005
Mark that bullpen continually "bolstered". After signing Kyle Farnsworth and Mike Myers this month, the Yanks made one more move to improve their pitching. The Yanks executed a trade today that brought veteran lefty Ron Villone in from the Marlins in exchange for twenty-six year old pitching prospect Ben Juliane.

WHO'S IN
Ron Villone
Age: 35
Teams: Seattle, San Diego, Milwaukee, Cleveland, Cincinnati, Colorado, Houston, Pittsburg, Florida
Career ERA: 4.75
2005 ERA: 4.08Career WHIP: 1.4862005 WHIP: 1.438

WHO'S OUT
Ben Julianel
Age: 25
Teams: Peoria Cheifs, Tampa Yankees, Trenton Thunder
2005 ERA: 3.90
2005 WHIP: 1.58

Some critics have scoffed at this trade, wondering why a young prospect would be traded for a veteran with similar career stats. While I see where they are coming from, the fact of the matter is that a twenty-five year old pitcher that hasn't made it out of AA yet likely would not perform very well in a major league setting.

Labels: farm hands, roster moves, signings
posted by Yankees Chick @ Friday, December 16, 2005


Remember Melky Cabrera? He Could Make an Appearance in 2006
oops.....

You may remember little Melky from last summer when he was called up from Trenton to show the Yanks what he could do in centerfield. He didn't do much then; strikeouts were a big problem and he didn't bat in any runs. Despite doing well defensively in the minors, he struggled in the field as well. He looked even younger than his twenty-one years and seemed to be severely overwhelmed and overmatched.

Since being sent back to the minors after just six games in the Bronx, Melky has been doing his best to improve his reputation as a player. He has been busy this winter playing in the Dominican, and he has been tearing up both the field and the batters box. In eighty-four at-bats, Melky has struck out just nine times while walking eleven times, and his BA is .298, including six doubles and a triple.

What could this mean for the future of the Yankees? Melky's name hasn't been mentioned as an option for the opening in centerfield, but I wouldn't rule it out yet. Cano has shown Cashman and the rest of the organization just how fast a young kid from the Dominican can bring his game up to speed. At the very least, Melky's winter ball performance will ensure that his name will be in the Yankees' minds for a bench player or extra outfielder.
posted by Yankees Chick @ Friday, December 16, 2005


A-Rod Out Of WBC
After causing a stir over his decision to play for the Dominican Republic rather than the USA in the WBC (he is eligible to play for either team), A-Rod has decided to bag the whole deal and watch the games at TGIFridays like the rest of us. In a statement to the New York Post today A-Rod announced that he will represent neither the USA nor the Dominican this spring:

"After thoughtful deliberations with my family, I am announcing my decision to withdraw from the World Baseball Classic. When faced with the decision to choose between my country, the United States of America, and my Dominican heritage, I decided I will not dishonor either." - - Alex Rodriquez

I wonder if the MLB and the WBC anticipated all the pride-related drama that has ensued since the announcement of the tournament. I understand A-Rod's point, especially after being tagged a "defector" for wanting to represent the Dominican. I'm sure he has a top notch public relations team working on his side, and stating that he loves both countries too much to choose one certainly is the best way to keep all your fans happy – from the cowboy-boot-wearing Texans to the flag-waving Dominicans.

Labels: a-rod trouble
posted by Yankees Chick @ Friday, December 16, 2005


Ugliest Yankees Gear: Do Not Give These as Gifts
Thursday, December 15, 2005
2006 Guide
2007 Guide
With a plethora of
gift-obligatory holidays coming our way
, a hat or t-shirt commemorating your loved one's favorite team may be just the solution to your shopping needs. A custom jersey, perhaps, or how about an authentic baseball cap, you know, the ones the players wear! Those are fine ideas, and I highly recommend looking into them. Just today, the Yankees Chick was doing just that - - I typed "
Yankees apparel
" into Google and waited with bated breath as the gods that are Google pulled up an intimidating two million sites. "Wow!" I thought excitedly. "There must be
apparel aplenty
! I can't wait to see what great-looking Yankees items are available!"
This is the part of the story that takes a turn for the worse, the part where one wishes he had a tissue stored in his pocket for moments like this.
What I found on those pages would burn the cells from your retinas. The beauty of the Yankees has been desecrated via thread and dye. The Yankees logo has been marred with camouflage, tie-dye, the flag....This whole thing is clearly out of control and needs to be brought to light immediately!

And so I present to you the ugliest Yankees gear on the market.
What is this? I get it -- we support the troops. That's all fine and good, but what does splashing green and brown have to do with the New York Yankees? This is just plain hideous, and totally unnecessary. What is wrong with plain blue and white?

More American pride! I'm not saying that having pride is wrong - - I just see no reason to combine the Yankees with the pride symbols. And on top of that, this isn't even an attractive flag. It's all diced up like the manufacturer accidentally put his flag through the blender and tried to save face by making it into a t-shirt.

Dear God. I really can't even tell where the designer was going with this one. It's tie-dyed, alright, bad enough, but why is it in the shape of a "V"?

This one tricks you into thinking it is a totally normal hat....Then BAM! Ear flaps? I understand that it is quite chilly in New York, but this is just above and beyond. It's not even blue!

Clearly, I had to save the best for last. Look closely so that you don't miss anything here. This is another one that could trick you. The back looks basically like normal Yanks hat when worn backwards, but then you turn it around and...a mask? I'm not even sure what to make of this. It is truly one of the most frightening things I've ever laid eyes on. Even more disturbing is the face WEARING the mask. If I show up at Yankee Stadium and that guy is sitting next to me, I'm outta there.






So there you have it. I'm sure there are many more fine specimens (I had to eliminate the pink argyle baseball cap for brevity), and I encourage you all to take a gander.

Labels: haha...ha.
posted by Yankees Chick @ Thursday, December 15, 2005


TYIB Awards Announced, Cano, A-Rod and Mariano Rivera Winners
As if there weren't already enough meaningless sports awards to dole out each year, MLB.com hopped on the bandwagon in 2002 with their fan-voted on This Year in Baseball Awards. Just as arbitrary as the Golden Glove, ROY or Cy Young (I'm sorry, but I can't accept that someone is deserving based on the voting of others, which is likely based on skewed or useless stats [win-loss record?!]), the TYIB Awards allow fans to vote for players in different categories such as Best Closer and Rookie of the Year. One thing I do like about the TWIB Awards is that they include different categories like "Single-Game Performance of the Year" and "Blooper of the Year".

Complete List:
CLOSER OF THE YEAR: Mariano Rivera. BEAT OUT: Brad Lidge, Derrick Turnbow

ROOKIE OF THE YEAR: Robinson Cano. BEAT OUT: Jeff Francoeur , Willy Taveras


SINGLE-GAME PERFORMANCE OF THE YEAR: A-Rod, for his April 6th performance. He went 4-5, hit three homers and drove in 10 runs that day!

SET-UP MAN OF THE YEAR: Neal Cotts (White Sox)

BLOOPER OF THE YEAR: Pedro's mid-inning run-in with the Shea Stadium sprinkler system

DEFENSIVE PLAYER OF THE YEAR: Ichiro Suzuki (Mariners)

MANAGER OF THE YEAR: Ozzie Guillen (White Sox)

STARTING PITCHER OF THE YEAR: Chris Carpenter

PLAY OF THE YEAR: David Wright's spectacular bare-handed grab of Brian Giles' pop-up at Petco Park. (I was there!)

HITTER OF THE YEAR: David Ortiz

Final Thoughts from the Yankees Chick: I actually agree with quite a few of these. Rivera was clearly the best closer, and Ozzie is very deserving of the Manager title. But how on earth did Roger Clemens, the only starting pitcher with a sub-2.0 ERA, come in third in the voting?! Those kind of votes highlight exactly why I hate these awards.

Labels: a-rod support, accolades
posted by Yankees Chick @ Thursday, December 15, 2005


Nomar Update: Decision Could Be Made Today
"Maybe we can get Tejada to start and Vizquel as middle relief" ---Jeter

Nomar's agent, Arn Tellem, has reported that they have zeroed in on four choice teams and while have made their decision by the end of the week – possibly by the end of today. The teams include the Yankees, Indians, the Astros, and possibly the Dodgers, and his possible roles with these teams range from right field to first base. Nomar and Tellem are seeking a one year deal worth between six and eight million dollars with incentives.

If Nomar ends up playing first base with the Yankees, we would effectively have three all-star shortstops in the infield. Even though Nomar has never played even one inning at first base, I personally think that he has the athleticism to adapt. Despite all the injuries, I'm actually crossing my fingers that we do sign him. Our infield defense would be pretty much airtight…

Stay tuned for further Nomar signing scoop - - I'll be scouring the internet all day in hopes of seeing something official!

Labels: free agency/arbitration
posted by Yankees Chick @ Thursday, December 15, 2005


Not Really Relevant: Torre Carries the Olympic Torch in Italy
Wednesday, December 14, 2005
In the middle of all the WBC controversy and cut-throat trades, I thought it might be nice to share a much more heartwarming story. Joe Torre was selected to carry the Olympic torch in Italy for a quarter-mile stint towards the final destination in Turin. Torre is one of ten thousand representatives from around the world chosen to run with the torch on this stretch. Torre's mother was born in Italy and he still has distant relatives living there, so Italy holds a lot of sentimental value for him.

Newsweek magazine conducted an interview with Torre last week, which can be read here. Here are some highlights:

Q: So tell me about the torch.
A: I'm running a quarter of a mile with it. I was thrilled [to be asked]—especially in Italy, because my mom was born in Italy, so it has sentimental value. I'll be carrying the torch on the 14th of December.

Q: Are you nervous about dropping the torch?
A: Why did you mention it? Now it'll be on my mind!

Q: Just between you, me and the readers of NEWSWEEK: is George Steinbrenner the worst boss in the world?
A: I can't say that because I've been here 10 years and I don't think anyone could have envisioned that. He's very tough even when you win; he looks toward the next time you need to win. You don't get a lot of credit and pats on the back, but the fact that you're still here is, I think, his way of saying that he's satisfied with what you're doing.
posted by Yankees Chick @ Wednesday, December 14, 2005


Johnny Damon Rumor Update: Torre Puts in a Call…
Start shaving, Johnny...



Hold on to your hats and glasses, kids, Joe Torre has made a call to the Damon camp.

Newsday is reporting today that Joe Torre had contacted Mr. "I'm thirty-two but demand a seven-year contract" Damon. He and his wrangler/agent Scott Boras have been unyielding on their quest for a seven-year $84 million contract despite getting no takers thus far. The Sox have offered him a three year deal, and both the Yankees and the Dodgers have expressed interest in him for three or four years, but Boras has made it clear that he and his client will not consider anything less than a five-year deal.

The current rumor is that the Yankees will offer Damon a hefty four-year deal, possibly with incentives or a fifth year option. Johnny is off to L.A. this weekend to meet with the Dodgers, so depending on what – if any – offer the Dodgers make, Cashman and Torre may need to be prepared to up the ante.

With Bradley and Juan Pierre out of the running, I wouldn't be surprised if the Yankees ended up springing for Damon, even if it means offering a larger deal than they'd like.

Labels: free agency/arbitration
posted by Yankees Chick @ Wednesday, December 14, 2005


A-Rod Likely to Play for Dominican Republic in WBC; Joins Piazza in List of "Defectors"
Tuesday, December 13, 2005
We should have all been expecting plenty of controversy surrounding the World Baseball Classic; this is the inaugural year and the MLB – and fans – have not had this kind of excitement in ages. The biggest hullabaloo thus far has lain in the countries for which the players decide to play.

The official rules dictate that a player can choose to play for any country that:
-he is a citizen of
-he is a permanent legal resident of
-he was born in
-one of his parents is a citizen of
-one of his parents was born in

These rules are very straightforward, but the problem lies in letters "d" and "e". Allowing players the option to represent a country that their parents are citizens of or were born in opens up a metaphorical can of worms: each time a player selects which country he will pay for fans jump on the chance to critique his national pride. In this era of "God Bless the USA" and "Freedom Fries", baseball fans have become increasingly critical of players they deem "American" playing for other countries. Some forum posters have taken to calling such players "defectors" for not playing for the US team. Piazza and David Dellucci have opted to play for the Italian team, and it looks like A-Rod will join the Domincan team, despite all three of them being born in the USA.

What vexes me about the people that call such players "defectors" is this: who are they to determine what someone's ethnicity/culture/race is? Growing up in southern California, I have known many US-born people whose parents were born in Mexico that certainly identified themselves as Mexicans. Their relatives live there, they celebrate culture-specific holidays and traditions, and speak the language. I will admit that I do not know how deeply entrenched Piazza or A-Rod is in their chosen countries. I will say, however, I certainly see no problem with any player representing a country that they identify with.

Labels: a-rod trouble
posted by Yankees Chick @ Tuesday, December 13, 2005


Nomar Rumor Update: A First Base Job with the Yankees?
fun fact: "Nomar" is "Ramon" spelled backwards!

The New York Post has reported today that the Yankees are very interested in signing Nomar to play first base – despite the fact that he's never played a game at first before. Neither the Yankees nor Normar's agent, Arn Tellem, will confirm any rumors, the Post reports that "several industry sources indicated an offer has been made".

I think that even the Post would have to admit that their sources sound shady at best, but for the sake of "what-ifs" I thought it would be interesting to take a look at Nomar's career thus far.

THE VITALS:

Full Name: Anthony Nomar Garciaparra
Age: 32
Seasons in MLB: 10
Teams Played With: Red Sox, Cubs
Career Batting Average: .320
Career OBP: .367
Lowest BA: .241, 1996 (partial season)
Highest BA: .372, 2000
Career FP: .968
Awards: 5 All-Star, Rookie of the Year, 1 Silver Slugger

Wow, those look great! Now, why would a Yanks fan be apprehensive about signing Nomar?

Injuries: Achilles tendon problem, wrist injury, back problems, groin injuries…..

Labels: free agency/arbitration
posted by Yankees Chick @ Tuesday, December 13, 2005


Robinson Cano: Too Cool For Ice Cream?
Monday, December 12, 2005
word to the wise: do not offer this man ice cream.

It's one thing to turn down hundreds of autograph-seekers while you're out on a hot date, or if perhaps you're busy saving kittens from tall trees. But at an ice cream parlor, where the fans had paid good money for your signature?! Get out of here.

At a lovely little sports memorabilia/ice cream shop – and who says the two don't go hand in hand? – in Scarsdale, NY this weekend, Cano disappointed hundreds of eagerly awaiting fans with his blasé attitude. The shop, called Last Licks, had organized something of a "meet and greet" for Cano, and was supposed to entail some autograph signing (at $50 a pop!) and a brief interview. Instead of the happy, spry rookie we fans had been watching all year, the fans were greeted by an irritated, unshaven young man on his cell phone. Cano reportedly signed a few autographs, refused to take pictures or shake fans' hands, and declined the aforementioned interview.

Personally, this kind of "too good" attitude disappoints me. I suppose I could look at it as a sign of immaturity (he is only 23), but it still irks me. We never saw Jeter or Bernie behave this way, not at a planned public appearance anyway. I still like Cano and am looking forward to watching him next season, but he'll have to redeem himself with some better public behavior – perhaps he'd like to be a part of a featured interview on Yankees Chick?

Let me know if you're ready to redeem yourself, Cano.
posted by Yankees Chick @ Monday, December 12, 2005


Tejada Denies Wanting Trade; Fans and Teams Say "Thanks For Causing an Uproar, Buddy!"
In a bizarre case of "but that's not what I really meant", Miguel Tejada has explained that when he said that he wanted a "change of scenery" he really didn't want to leave the Orioles.

Wipe that "huh?!" look off your faces and listen to Tejada's explanation:

"I never said I wanted to be traded, I said I want to see a better team. I don't want to keep losing like we have the past two years."

To most of the sports world, complaints about your team not winning and a desire to change the scenery would indeed indicate dissatisfaction and a yearning for a new team (aka, that change of scenery you were talking about!). Not so in Baltimore apparently.

Take note, sports fans.

Labels: a-rod support
posted by Yankees Chick @ Monday, December 12, 2005


No Posada for Puerto Rico in WBC
Sunday, December 11, 2005
The WBC has decreed that Jorge Posada will not be allowed to play in the tournament this spring. Jorge was eager to play for his native Puerto Rico, but it was announced today that the Yankees' objection has been approved by the WBC, barring Jorge from participating.

While participation in the tournament is primarily the choice of the athlete, the organization for which they play does have the option to try to block their players' involvement. According to the official WBC guidelines, any player currently under contract with the MLB must be approved by the WBC council, which is run by both the MLB and the MLB Players Association. In the event that a team does not want their player to participate, they must file an "objection" stating their reasons for the WBC to review. In Jorge's case, the Yankees' objection stated that he was an "indispensable" part of the Yankees and that playing in the tournament could jeopardize his ability to perform in the 2006 season. The WBC sided with the Yankees and deemed Jorge ineligible to play.

This is an interesting situation, because the Yankees made no fuss over Jeter or A-Rod's involvement with the WBC, and one could argue that either one of them is more indispensable than Jorge. The Yankees are likely more concerned about Jorge because of his age and the fact that he is already showing signs of wear - - three weeks of intense, national pride-driven competition could wear on any player.

Labels: jorgie porgie pudding and pie
posted by Yankees Chick @ Sunday, December 11, 2005


Matsui Still Undecided About WBC
Saturday, December 10, 2005

As the WBC fast approaches, each day seems to bring more news of who will be playing, who will be coaching, and who is playing for a country in which their parents were born. I definitely have opinions on the latter, but I'll save that for a time when I can devote a bit more energy to a comprehensive post (AKA Monday, when I'm back to work).

Several of the teams are shaping up quickly and filling their rosters, and Japan is keeping up with the pace. They have picked twenty nine players, including Iguchi and Otsuka, and are hoping that Matsui will hop on the bandwagon. Unlike A-Rod and Jeter, who have announced that they will indeed be a part of the WBC, Matsui has yet to make a decision one way or the other. He hasn't given any reason or statement regarding his lack of decision thus far, but the Japanese team is still hopeful that he will decide in favor of playing. They have kept the last spot available on the roster specifically for Matsui. They have said that they are willing to be patient and will wait as long as it takes Matsui to make a decision. Barring any illness or injury, I do anticipate Matsui being a part of the WBC; he is very proud of his home country and I think he would take pride in representing them.
posted by Yankees Chick @ Saturday, December 10, 2005


Tejada Wants out of Baltimore; Moronic Yankees Fans Say Trade A-Rod
Friday, December 09, 2005
I'm not saying he doesn't know the best crabs....just that he won't be a Yankee.


All-Star shortstop Miguel Tejada has decided two seasons with the Orioles is enough and publicly expressed his desire to be traded yesterday. Tejada's declaration has caused a flurry of excitement and controversy amongst fans across the country, and Yankees fans haven't been left out of the debates. I have read opinions ranging from the silly to the ludicrous on forums today, and I thought I'd share them – and my reactions – with you.

[Disclaimer – pardon the spelling and grammar…I am quoting directly from forums.]

"trade arod for tejada and gibbons"
I'll brand this one "silly". There is no way that Tejada would be an improvement over A-Rod, and what would we do with Gibbons? I think the Yankees can do without a mediocre backup first baseman/DH.

"if tejada to sox we are done this year. trade arod to get him on the yanks."
This has "silly" written all over it. Signing Tejada will not seal Boston's spot in the playoffs or make a significant impact on the Yankees' chances at the post season. The Yankees battled him in the AL East for the past two years and seemed to have no trouble with him; I don't see how his being on the Sox would make any difference. As for the thought of trading A-Rod to get Tejada (who isn't even a third baseman) is ludicrous. A-Rod has performed better across the board, from BA to OBP to slugging to FP….

"If the Red Sox get Tejada, they will win the division next season. And probably make the WS."
Ludicrous! Again with the "Tejada Will Be a Savior" talk. I really don't see how Tejada will make up for the lack of Manny and probably Damon. He is a good player, not Superman.

My personal opinion is that the Orioles will not trade Tejada to the Sox, much less to the Yankees (not that Cashman would deal for him anyway). Why would Baltimore trade him to their division rivals? I'm not saying that it would be a total deal breaker, but it will pose to be a factor. I have a feeling that the Mets will be taking Tejada home with them….pack your bags, Reyes….
posted by Yankees Chick @ Friday, December 09, 2005


The Yankees Officially Bid Farewell to Eight Free Agents Including Ruben Sierra and Kevin Brown
With the December eighth deadline officially past we can see who definitely won't be donning a pinstriped uniform come spring. Arbitration was offered to Bernie and pitchers Al Leiter and Ramiro Mendoza, but eight others were left in the cold. Here's the rundown of the latest players that can add the Yankees to their "past jobs" list:


Kevin Brown: Damn the Yankees and their insistence on signing players who were once great but are now past their prime. I do respect Brown's career record, but I really do wish he had never been a Yankee. His two year tenure in the Bronx was appalling. I dreaded seeing his surly face on the mound; the Yankees do not need that kind of bad attitude infecting their club. I'm also convinced that he was juicing…I don't have any proof of this, but those mystery "parasites" and the intense rage should be a tip-off.

Matt Lawton: He was only with the Yanks for the latter part of the 2005 season and didn't make much of an impact in the twenty one games he played. He will be sitting out the first ten games of the season with whatever team signs him due to his little steroid incident. I doubt anyone will miss him in New York.

Tino Martinez: Tino has been a well-loved Yankee since his six year stint with the team beginning in 1996. He's never been a .300 hitter or a home run derby winner, but he plays hard and his defense is near impeccable. The fans love him, but letting him go is the right thing to do. He is aging and slowing down considerably, and its time to make way for a younger crowd.

Alan Embree: To be honest, I completely forgot he was even on our team. He was essentially useless last year, letting twelve earned runs score in the fourteen innings he pitched. Good riddance.


Ruben Sierra: I've actually always liked ruBEN. He plays hard, and watching that big old man trying to make it home from first on a long double is always good for a laugh. He's forty, though, and it wouldn't be wise to keep him on the roster.

Felix Rodriguez: Just another expendable righty reliever. No loss here.

John Flaherty: John has been unofficially gone since the signing of Kelly Stinnett. I'm sure he's a nice guy, but I really hated seeing him go to bat. Stinnett likely won't be too much of an improvement, but his batting average is better and he walks a bit more.

Rey Sanchez: I think he's trying to battle Todd Zeile – he's already played on nine teams, and will likely sign to a tenth this year. He played twenty three games as a back up infielder this year and performed decently, but with Cano, Jeter and A-Rod he really isn't needed much.

Labels: free agency/arbitration
posted by Yankees Chick @ Friday, December 09, 2005


Yankees Finally Make Moves in Final Day of Winter Meetings: Adios Tony Womack, Hello Mike Myers
Thursday, December 08, 2005
After sitting idly by and watching other clubs make all the gutsy moves in Dallas, the Yankees made some deals today. Here's what went down today in Texas:

- Mike Myers: The Yanks snapped up one of the few free agents left and signed him to a two year deal today. If you're not sure who he is, this is the lefty cat whose knuckles nearly scrape the ground as he pitches. His career ERA is 4.30 (just 3.13 with the Red Sox last year) and his walk-to-strike-out ratio is decent. He wouldn't be my first choice, probably, but as I said, pickings are slim this year and I think he is a good pickup.


- Tony Womack to Cincinnati: Tony's abysmal run in the Bronx has come to an end. The Yanks dealt him to the Reds in exchange for two minor leaguers and $900,000 of Tony's contract. Both of the minor leaguers – a third baseman and an outfielder (!) - did very well last season and are considered top prospects. As for Tony, I'm sure he's a great guy, but I definitely breathed a sigh of relief when I read that headline. I wonder how much worse our season could have been if Cano hadn't been called up?! Perhaps he'll do better on the lower-pressure Reds.
posted by Yankees Chick @ Thursday, December 08, 2005


There's Hope Left for Bernie: Cashman and Boras Get One More Month
As the Yankees Chick mentioned previously, yesterday was the last day for the Yankees to offer arbitration to old man Bernie. While they didn't make any real offers or come to any agreements, Cashman and Boras were able to extend their deadline by a month by having Boras decline a sham arbitration offer.

It is well known by now that if Bernie does come back to the Yankees next year, it would not be in an everyday capacity. It looks like Bernie would still be willing to be a Bomber even if it means operating as a fourth outfielder and occasional DH.

Interestingly, even if the Yankees decide not to re-sign Bernie, he could end up playing in New York again next year - - in Flushing. Apparently, the Mets are also interested in signing Bernie as a fourth outfielder should he not be able to come to terms with the Yankees.

Labels: bern bernie bern, free agency/arbitration
posted by Yankees Chick @ Thursday, December 08, 2005


Houston Fails to Offer Arbitration to Clemens: Could a Second Tenure With The Yankees Be In The Cards?
Wednesday, December 07, 2005
The Houston Astros decided to let their Clemens arbitration deadline pass today, leaving the Rocket's 2006 season status up in the air. Clemens has been unwaveringly silent about his thoughts on his future as a starting pitcher since last season and has made it clear that even if Houston did offer arbitration today he may not make up his mind for months, or could ask for a hefty salary if he did re-sign with the Astros. By not offering arbitration today the Astros will not be able to bid for Clemens until May first.

It seems that Clemens leaves us fans hanging nearly every year; the possibility of retirement always seems to be at the tip of his tongue. Despite what he may threaten or allude to, I see no reason that the Rocket would choose this year to put the cap on his career. While I'm sure there are more than three, here are the Yankee Chick's top three reasons why Clemens will pitch in 2006:

1) His performance shows no signs of slowing. He posted his best ERA in 2005 and hasn't had to limit his number of appearances – he started over thirty games last year, which was right on par with the rest of his career.
2) One word: Koby. Clemen's son was signed to the Astros organization last year and Clemens as mentioned that he dreamed of playing in the MLB with his son. If I'm Clemens (caveat – I'm not), and my son is just a year or two away from the majors, and I'm still feeling swell, I'm not going to call it quits just yet.
3) WBC. He is already slated to pitch in the WBC next spring, meaning that he will be getting in shape as usual all winter. I would be surprised if a career athlete who loves the game like Clemens does goes all out for two weeks in the WBC and then ends his career.

Despite the fact that the Yankees lost, oh, nine hundred gazillion dollars last year, I wouldn't put it past him them to sign Clemens for a second stint. If he does decide to play, the only teams I can see him signing with are the Yankees and the Blue Jays, for nostalgic reasons. I don't see him going to Boston as Clemens doesn't seem to be on good terms with the Sox.

Labels: free agency/arbitration
posted by Yankees Chick @ Wednesday, December 07, 2005


Arn Tellem - Nomar's Agent - To Meet With Yankees
"Teams have asked him, in general, about the outfield, first base, second base. He's pretty open to any position other than catcher and pitcher." - - Arn Tellem

Word on the street in Dallas - - aside from dozens of trade speculations that have nothing to do with the Yankees - - is that Cashman will be meeting with Nomar's agent, Arn Tellem, today to discuss possible roles for Nomar in New York. No numbers have been mentioned yet so I wouldn't put too much stock in this meeting, but it is interesting that of all the players that could possibly fill out our roster, Garciaparra is one of the few being talked to.

Labels: free agency/arbitration
posted by Yankees Chick @ Wednesday, December 07, 2005


Juan Pierre Goes To Cubs
The Marlins have continued in their quest to start the 2006 season with none of their 2005 players and have shipped Juan Pierre off to the Chicago Cubs. Rumors had been swirling about possibly trading Scott Proctor and Sean Henn so that Pierre could take post in the Yankees' centerfield, but those pipe dreams have been crushed by the four-year deal agreed upon by Pierre and the Cubs.

I really was hopeful for the Henn-Proctor-Pierre deal, but since it is no longer possible I'm at least hoping that having to cross one more outfield option of their list will light some sort of metaphorical fire under the Yankees officials. I am eager to hear what sort of centerfield trade ideas the Yanks come up with during these winter meetings…

Labels: roster moves, signings
posted by Yankees Chick @ Wednesday, December 07, 2005


Bernie Getting Nervous as Arbitration Deadline Approaches
Tuesday, December 06, 2005
Perhaps after filling the gaps in the bullpen and the outfield, Cashman will move on to finding a musician with stellar classical guitar skills to entertain in the clubhouse...



December seventh – that's tomorrow, folks – marks the deadline for the Yankees to begin arbitration with Old Man Bernie. If the Yankees do not make an offer to Bernie by tomorrow, they will waive their rights to sign him until the first of May. Bernie has been on the back burner (no pun intended) for the Yanks this off season; the focus has mainly been on pitching and finding an everyday centerfielder. The Yankees are not writing Bernie off completely but have made it clear that he would definitely not be signing Bernie to an everyday position contract.

It is doubtful that any contract would get hammered down by the December Seventh deadline, but there is still hope for Bernie. One way for both the player and the club to buy time is to extend an offer to the player with the understanding that he will turn it down - this extends the deadline by about a month. According to Cashman, dialogue between Bernie, his agent Scott Boras, and himself will likely occur by tomorrow.

Labels: bern bernie bern
posted by Yankees Chick @ Tuesday, December 06, 2005


Cashman Discusses Pitching Imbalance; Johnson and Mussina the Only Ones with 'Sure Spots' In Starting Rotation
With all the talk of the Yankees' lack of relief pitching, it is good to hear Cashman mention that he hasn't forgotten about the dilemma. In a recent interview on MLB.com, Cashman noted that with the signings Sturtze and Farnsworth the Yanks now have a ten-man pitching roster - - seven of whom are starters. According to Cashman, the only pitchers "assured" of starting spots are Mussina and Unit, which leaves Chacon, Small, Wright, Pavano, and Wang to fight for the other three spots. The two who do not make the cut will be shifted to relief spots. He also mentioned that they will likely be adding at least one, if not two, additional pitcher before the start of the season.

This news actually makes me feel a bit more confident about our pitching rotation. While Wright did let down some people last year, I'd be happy to see him in the bullpen. Relief duty could also give Small and Chacon the opportunity to possibly be even better than they were as starters. At this point, I'd just like the Yanks to sign one more solid long-reliever. Mike Myers is available, and I'd even be happy to see Paul Quantrill back in NY with a reasonable contract.
posted by Yankees Chick @ Tuesday, December 06, 2005


Scott Proctor and Sean Henn for Juan Pierre? Yes, Please!
Friday, December 02, 2005
note to Bubba Crosby: You can't do this. Go sit on the bench.



The latest and greatest (in my opinion) trade rumor of late is that involving current Mariner Juan Pierre. The Mariners are apparently eager to add Pierre to their fire sale list and have asked the Yanks for pitchers Sean Henn and Scott Proctor. While I'm trying not to get too excited about this trade, the Yankees are apparently at least considering the Marlins' offer and haven't rejected it yet. For Pierre, the deal would likely be for just one year, as he's set for free agency after next season.

Pierre, who is a youthful 28 years old, has a lot to offer to the Yanks. He has a career BA of over .300, steals lots of bases and is considered to be one of the best bunters in the league. He doesn't hit a lot of home runs, but he is very speedy and manufacturers doubles and triples. Pierre also walks about as often as he strikes out.

As for the players the Yanks would theoretically give up for Pierre, Proctor and Henn, I don't see any reason not to turn them loose. Proctor let a ridiculous thirty earned runs in during the twenty-nine games he pitched in last year, including ten home runs. For his part, Henn allowed three home runs and fourteen earned runs in the three games he appeared in. I do think that those numbers are likely inflated – both Proctor and Henn were called up from AAA Columbus and the numbers don't represent what they could possibly do in a full season.

Whether or not Henn and Proctor are capable of performing better in future seasons, the Yankees would be wise to sign Pierre. He's young, he's already proven his talent, and the Yankees will be lucky to get away with trading relatively expendable players.
posted by Yankees Chick @ Friday, December 02, 2005


Cashman Still Hot on Bubba Crosby
"Right now, it's Bubba Crosby. If something makes sense that's better than that, we'll pursue it." - - Cashman

For reasons undecipherable to Yankees fans around the globe, the Yankees seem to be dead set on using Bubba in centerfield. Mattingly in particular is a big supporter of Bubba and has said several times that he feels the kid has raw talent that should be used. Personally, I don't despise Bubba – I just don't want him playing centerfield on my team every day. Pinch-running in the ninth inning is fine; four at-bats per game is not. I strongly believe that there are other players that could get the job done far better than Bubba could, and without nearly killing Shef in the outfield.

The winter meetings are coming up and trade options will surely be discussed. The problem that Cashman is seeing - - and that most of us are seeing - - is that no matter how badly we want someone to come in and play outfield for us, we just don't have much collateral to use as trade bait. Every option that I come up with is riddled with problems.

Small, Chacon, Cano: Cashman is – thankfully – VERY hesitant to trade these guys, and rightly so. To me, these players are the future of the Yankees. They are young, talented, eager, motivated….everything the Yankees organization has been lacking. To trade them would be to shoot ourselves in the foot.

Prospects: While we definitely have a lot of talented prospects, do we really want to trade away our young gold mine? And also, would we be able to get a top outfielder for prospects? Probably not.

Bubba Himself?: Not sure what we could get for him, but maybe we could tack on some cash and a prospect and pick up a pricey contract of a bigger name outfielder.
posted by Yankees Chick @ Friday, December 02, 2005


Tom Gordon Gone in a Flash: Phillies Offer 3 Year/$18 Million Contract
It took Phillie's manager Pat Gillick about three nanoseconds to find a replacement for Billy Wagner, who was signed by the Mets to a huge four year $40 million deal. Gillick and Gordon came to terms this week on a three year deal worth $18 million; the agreement also includes a fourth year option. Gordon has been adamant about wanting a three year contract, which the Yankees were not willing to offer due to his age (38). While the Yanks did offer Flash a two year deal, it has been pretty well accepted that he would not be returning and Cashman went ahead with signing both Jose Veras and Kyle Farnsworth as replacements.
posted by Yankees Chick @ Friday, December 02, 2005


Giles Accepts Offer from Padres; Yankees Strike another Center Field Option off Their List
Thursday, December 01, 2005
After very publicly looking around at what other teams had to offer, Giles decided to stick with his home team and accepted a three year deal worth a cool $30 million from the Padres. Assuming he passes his physical this morning, Giles can relax in his Padre blues and breathe easy for the rest of the off season.

The Yankees, on the other hand, will have to continue their half-hearted search for an outfielder. With the free agent market dwindling faster than snow melts in San Diego, I'm hoping that the bigwigs are hard at work organizing some sort of miracle trade for Torii Hunter…

Labels: roster moves, signings
posted by Yankees Chick @ Thursday, December 01, 2005


Yankees Chick Tweets!
Fun Fact O' The Week

In 2009 Curtis Granderson published a book: All You Can Be: Dream It, Draw It, Become It! Granderson "shares the lessons that he learned growing up--the importance of family and choosing the right friends, the power of listening and staying positive, and most important, the value of being yourself."
Interleague Play: Love it or Leave it?
Previous Poll Results
Which Former Yank Free Agent Would You Most Like to See in Pinstripes in 2010?
Johnny Damon
53%
Chien-Ming Wang
26%
Xavier Nady
8%
Jose Molina
6%
Jason Giambi
6%
Jeff Weaver
2%
Catch up! Recent Posts
What'd You Miss? Archives
About Me
Name: Yankees Chick
Home: San Diego, CA, United States
About Me: Just your average 26 year old Yankees lovin' gal from the SD.
See my complete profile
Blog Faves
Subscribe
Add to RSS

Search!