Heroes (Advertisers)
Purchase the best NY Yankees Game Tickets from Ticket Brokers Vivid Seats which include NY Giants Tickets, New York Mets Tickets, Knicks NBA Tickets, Rangers Hockey Tickets, Islanders Tickets, Jersey Boys Tickets, , Madison Square Garden Event Tickets New Jersey NBA Nets Tickets and Devils NHL Games .

---
Find New York Yankees tickets and other hot MLB tickets at CTC! We carry Cardinals baseball tickets, Red Sox tickets in Boston, Detroit Tigers tickets, Dodgers tickets and World Series tickets as well as New York Giants tickets and hot show tickets, including Coldplay concert tickets, Conan O'Brien tickets, NY theater tickets and Broadway show tickets.

---
---
View blog authority

Nomar a Possibility to Fill a Gap or Two?
Wednesday, November 30, 2005
Boston's fallen son Nomaaahhhh, who was traded to the Cubs back in 2004, has been granted free agency again this year and the Yankees are among several teams thought to possibly benefit from his services. Nomar has spent most of his career at shortstop, a post that clearly needs no filling in the Bronx, but that doesn't mean that we wouldn't be able to use him in some capacity. He hasn't played first base thus far in his major league career, but he could possibly share that role with Giambi while Jason is DH-ing. It's also possible that he could make the transition to the outfield, though only time would tell if he'd be able to acclimate himself out there. Another use for the dyslexic Ramon could be to use him at second in place of lefty Cano against tough lefty pitchers. With a .320 lifetime batting average and the capability to hit for power (despite the fact that his past two seasons have been weaker than usual he's still slugging .544 lifetime) I could gladly accept this former Bosox agent on team. He was, after all, gleefully sullen towards the Sox at the end of his tenure in Boston…I can get behind that kind of Sox hatred!

Labels: free agency/arbitration
posted by Yankees Chick @ Wednesday, November 30, 2005


Farewell Flaherty: Kelly Stinnett Coming In For Backup Duty
He and Johnson can bond over their happiness to not have to wear purple anymore...



The New York Daily News is reporting today that the Yanks have signed veteran catcher Kelly Stinnett to replace John Flaherty, who has served as Posada's backup catcher for the past three seasons. Numbers-wise, Stinnett is very similar to Flaherty: neither hits for much power and it is doubtful that either catcher's OBP will be striking fear into the hearts of any opposing pitcher. No matter, though - - the last thing the Yanks should be concerned about is offense, and Stinnett's defense is very serviceable. In fifty-six catching appearances last year he had 237 put-outs and 15 assists and he holds a lifetime .984 FP.

The only factor I would be concerned about is the fact that in 2004 Stinnett underwent Tommy John surgery. However, his 2005 season seemed to be about on par with his pre-surgery performance, so his health shouldn't pose a problem in 2006.

Last year Flaherty's main role was Johnson's personal catcher since the Unit seemed to do better with John than he did with Jorge. Cashman has said that he isn't too concerned with finding a catcher specifically for Johnson, but Stinnett is familiar with Johnson as they worked together on the D-backs in 1999 and 2000.

Labels: roster moves, signings
posted by Yankees Chick @ Wednesday, November 30, 2005


Telegram to Kyle Farnsworth: Come to the Bronx to Set Up for Mo
Tuesday, November 29, 2005
With the recent signings of both B.J. Ryan and Billy Wagner and the ever decreasing likeliness of a Flash return, rumors regarding Kyle Farnsworth are circulating faster than you can say "pass me that $5 hot dog and $8 beer, stat!"

If you've been living under a rock for the past six or so years, Farnsworth has been pitching with the Cubs since '99 and split last season between Detroit and Atlanta. He's a righty, and struck out 87 of the 277 batters he faced last season. His ERA has also steadily improved since his MLB debut, and he is only 29 - - both of which will surely make the head honchos at Yankees Stadium happy.

Of course, this is still in the speculation stage, so we'll have to see how it pans out. I, for one, think the Yanks should snap him up as soon as possible lest we be left with Sturtze as our 8th inning go-to guy.
posted by Yankees Chick @ Tuesday, November 29, 2005


Torre's 'Athletic' Comment Misinterpreted; In Other Words, Still No Moves Made
If you've stopped by a baseball forum lately - - Baseball-Fever.com is the Yankees Chick's fave - - I'm sure you've read all the hoopla regarding Joe Torre's alleged consideration of moving one of his infielders to fill the hole in the outfield. In the Reuters report, writer Larry Fine portrayed Torre as mentioning shifting A-Rod or Jeter to centerfield as a viable option for the Yanks this off-season. When prompted by Fine as to whether moving an infielder to the outfield would be an alternative to the slim pickings left on the free agent market, Torre responded "that's happened before, hasn't it? Bobby Murcer, Mickey Mantle. Hank Aaron came up as a second baseman. Robin Yount went to center field…" To the dismay of all the crazed bloggers and forum posters, what Fine failed to include in his article was the fact that Torre was simply stating players he sees as athletic enough to make such a transition, a list that included Mariano Rivera, A-Rod and Jeter. He is denying that he ever alluded to any plans of shifting A-Rod or Jeter to the outfield.

Whether or not Torre and Cashman would actually consider making a move like that, the idea is pretty intriguing. Granted, moving one of those two to the outfield is probably less likely than Joe Torre himself suiting up and hitting the field, but considering our other non-options I wouldn't rule it completely out. When they finally hire the Yankees Chick as GM I'll let you know….
posted by Yankees Chick @ Tuesday, November 29, 2005


Vegas Leaves No Time For Baseball - - Though A-Rod Was Sighted!!
Monday, November 28, 2005
I have just returned from an arduous 4 day venture to Vegas and it appears that the 2006 season is already looking out of my control (Beckett? Ryan?? Wagner?!)... Alas, as I said, I just rolled in from a hellish six-hour drive down the 15 and I would be lying if I didn't say I still needed to recover before I make an attempt at a coherent post, but do expect a tirade tomorrow. I will, however, take a moment to note that A-Rod was with Phil Hellmuth in the Bellagio casino playing $2000/$4000 Hold 'Em - - - yes, literally one thousand times the stakes I was playing.
posted by Yankees Chick @ Monday, November 28, 2005


Jeter Joins the XM Satellite Radio Team
Tuesday, November 22, 2005
Derek Jeter, who has noted his affinity for XM radio in the past, has signed on with the satellite radio gurus to promote their 24-hour MLB programming. Jeter will enjoy guest appearances and we fans, of course, will be overwhelmed with advertisements via all media.

Jeter's non-profit Turn 2 Foundation will also benefit from the XM deal, as Jeter will have airtime to promote its efforts to encourage kids to steer clear of drugs and be academically successful.


Yankee #2 has been quite sucessful with endorsements thus far in his career. There's been Visa commercials, deals with Nike, Gatorade, Skippy Peanut Butter, and, most importantly, his own non-profit Jeter Flakes cereal.



Labels: do-gooders, jeter jeter pumpkin eater
posted by Yankees Chick @ Tuesday, November 22, 2005


Rangers Righty Jose Veras Signed to One Year Deal
Jose Veras, who played with the Rangers and their Oklahoma minor league team last year, will be joining the Yankees in the Bronx in 2006. It appears that Veras will be taking over Flash's post Mariano Rivera's setup man, effectively ending any remaining speculation that Flash would take Cashman up on his two-year offer.

Veras is currently playing winter ball in the Dominican, where he has five saves and has allowed only two runs in his first twelve innings as closer there. In fifty-seven games with the Oklahoma last season Veras struck out seventy-two and earned twenty-four saves.

Jose is just twenty-five years old, so along with Small and Chacon it looks like the Yankees may finally have a young pitching core.


"I feel proud that the Yankees have signed me to help set the table for Mariano Rivera."
Labels: roster moves, signings
posted by Yankees Chick @ Tuesday, November 22, 2005


Negro League Players Headed For Cooperstown
Monday, November 21, 2005
The idea that the players who were a part of the Negro League were exceptional athletes is nothing new, but next year thirty-nine players and officials will finally have a chance to be elected to the Hall of Fame. In 2006, a group of twelve researchers and historians will consider the careers of the thirty-nine players, who were chosen as finalists after a five year study. The study, which will be published some time next year, dug deep into the statistics and history of the Negro League and pre-Negro League (nine of the thirty-nine selected played pre-Negro League) and were able to determine the players that had the biggest influences on the Negro League and baseball as a whole.

Recognizing the achievements of these athletes and the ways that they influenced baseball in America is imperative. Why, though, did it take until 2001 for the Hall of Fame to begin their study? It is not as though they were not privy to information about the League. In 2000, the MLB gave the Hall a $250,000 grant to "jumpstart" their research, and while that is helpful, I cannot think of a reason why more could have been done - - and far earlier. I wonder if the players who will be honored would think of this as an achievement or too little, too late.
posted by Yankees Chick @ Monday, November 21, 2005


Yankees Rumor Mill Update
My apologies for the lack of updates…'tis certainly not for lack of material! I was at GenCon in Anaheim this weekend, a gathering of decidedly un-baseball friendly people….I was nearly accosted for not knowing how to play Magic. Needless to say, I'm happy to be back home and in my baseball niche.

Here's a rundown of the latest Yankees buzz:

- Brian Giles: The latest word is that he wants to stay in San Diego and may be willing to give the Padres a hometown discount. The Padres have already offered Giles a three year, $25.5 million contract, significantly less than the approximately $30 million deal the Yankees are purportedly set to bid. With the lack of options left for the Yankees, I'm going to wager that they will offer more than $30 million to woo Giles to New York.
- Tom Gordon: It is not looking likely that Tom will be back in the Bronx in 2006. Flash is looking to move on to a team on which he could serve as closer, which clearly is not possible with the Yankees, and he is also adamant on his desire for a three year deal. The Yanks have offered him a two-year contract, but even Cashman has said that isn't very optimistic about re-signing Flash.
- B.J. Ryan: As much as I hate to say it, its looking like a pinstriped uniform is not in Ryan's future. He is unwavering on his desire to close for a team, and teams like the Mets and the Blue Jays will be more than happy to offer him a deal.

I'm trying not to get too depressed. Let's all hold out hope that T.J. Beam and Aaron Small translate their minor league success into long-term prowess.

Labels: free agency/arbitration
posted by Yankees Chick @ Monday, November 21, 2005


David Dellucci and Catch 22 for Blue Go Yard for Hurricane Victims
Friday, November 18, 2005
You may remember David Dullucci from his brief stint with the Yankees in 2003, but more likely you'll remember him hitting a career high 29 homers on the Rangers last year. When hurricane Katrina hit his home-state Louisiana earlier this year, Dellucci sprang into action and created Catch 22 for Blue to raise money and support organizations including the Red Cross and the Louisiana Disaster Relief Foundation. Catch 22 for Blue accepts donations and also auctions of David Dellucci memorabilia – the money, of course, goes to the charities. David also writes a blog illustrating his relief efforts and his reactions to all the support he's received. Check it out; make a donation, by a Catch 22 bracelet: http://www.catch22forblue.org/index.html

Labels: do-gooders
posted by Yankees Chick @ Friday, November 18, 2005


Matsui Fills One Hole For The Yankees- - Who's Next?
Thursday, November 17, 2005
Now that the Yanks have locked up Matsui, it's time for them to step up their seach for a third outfielder. Let's compile some opinions:
posted by Yankees Chick @ Thursday, November 17, 2005


Luis Sojo to Lead Venezuela in the WBC
Wednesday, November 16, 2005
Six of the sixteen teams that will be participating in the first World Baseball Cup next spring announced their managers today, and Yankee veteran Luis Sojo is one. He will serve as skipper of the Venezuela team, and although the teams have not officially been announced there has been much speculation that stars like Ramon Hernandez, Miguel Cabrera, and Johan Santana will be a part of the Venezuela group.

The other managers announced today are:
Japan: Sadaharu Oh
China: Former Major Leaguer Jim Lefebvre
Panama: Major Leaguer Roberto Kelly
Mexico: Francisco Estrada
Domincan Republic: Manny Acta (originally, Tony Pena was penciled in for this post).

On December fifth, the managers and coaching staffs from all sixteen teams will likely be announced during a press conference in Dallas.
posted by Yankees Chick @ Wednesday, November 16, 2005


MLB Players React to New Steroid Policy
The new, stricter drug policy was announced by the MLB yesterday, and the most player have been very supportive thus far:

"Steroids should not be in this game or in any game. It goes further than baseball. If you're doing steroids, you're putting your life in danger. So whatever penalties they want to put on it, I think it's great. If someone's dumb enough to use steroids nowadays, with all the information that's out there about long-term health risks, they shouldn't be in the game. They should be getting help somewhere so they can lead a healthy life. ... This is something that should have happened a long time ago. I don't know what took 'em so long." - - - Jason Kendall

"If they test more, that will be good. Whatever they have to do to rid the sport [of drugs] and make things better. I think it's an important step." - - - Phillie's catcher Mike Lieberthal

"Unfortunately, the last set of rules, a lot of people weren't really scared of them. Ten days was almost a slap on the wrist. I'm glad there's something in place and hopefully it can help get steroids out of the game. Hopefully it can get amphetamines out of the game also. If it's illegal, we should not be taking it. That's the way I feel about it. If it's illegal, we shouldn't have it, it should not be around. What makes baseball players bigger than the average person? Nothing, when it comes down to law." - - - Johnny Damon

"I think if you get caught the third time, definitely you need to be thrown out. You get caught once or twice, you get caught the third time, that means that you're not going to learn the lesson. So you should be thrown out of baseball." - - -Albert Pujols

Some players, however, were a bit more cautious in their responses:

"The only reason I would think it's a little dangerous is because we don't, as players, really know how clean the testing process is. You hope it is, that way you don't have any false positives. If you do, you're kind of ruining a guy's season. As long as the testing process is pretty solid, I don't see anything wrong with it." - - - Bronson Arroyo

"So many times we've seen guys test positive and then say they were just using supplements or vitamins. Now, with a 50-game suspension, there can't be any loopholes in the testing or margin for error. There can't be any mess-ups. You're dealing with guys who have to take care of their families, and 50 games is a good chunk of the season." - - - Braves catcher Johnny Estrada

"Everyone has enough notice now, so you have to be careful with everything you take. Even if you have a smoothie in some store, and you don't know what kind of supplements they use in smoothie stores, or if they wash all off their canisters really good, you just have to be really precautionary with everything you do." - - - Mike Myers


Like always, the sterility and fairness of the testing will come into question each time a player tests positive. However, I am hopeful that the tests will be performed fairly and will be thorough enough to recognize whether a player has used amphetamines or a simple vitamin supplement. I am optimistic that the new policy will bring a renewed sense of responsibility and ethics into the MLB.

"I think it's great that we're letting the fans know that we are moral, we are ethical, and that we do care about what they think. And that we care about the way the game is perceived." - - - Barry Zito

Labels: steroids
posted by Yankees Chick @ Wednesday, November 16, 2005


Matsui a Yankee for Four More Years - - Oh, and Sturtze Gets One More Year
Tuesday, November 15, 2005
The Yankees and Matsui have come to terms on a contract, a mere hours before the deadline stipulated by his previous contract. This new deal ensures that Matsui will be in pinstripes for four more years and living the high life while he's at it - - he'll have a sweet $52 million to play with! Cynics have already begun the obligatory "the Yankees are overpaying for him!" rants, which I find absolutely ridiculous. Matsui has been very solid, very steady, and offers the Yankees organization a huge contingent of fans that they otherwise may not draw.

And in other Yankees contract news, Tanyon "Sturtze the Hurtze" will be with us for another year. The Yanks decided to exercise the $1.5 million option on his contract as it would have cost them $150,000 to buy him out. In sixty-three relief appearances last year he let a scary forty-three runs cross the plate in just seventy-eight innings, giving him a season ERA of 4.73. I'm probably not the only one groaning at this; wasn't improving the bullpen supposed to be at the top of the "to-do" list this off season?! The good news is that during my tour of Yankee Stadium last season I did notice that Sturtze keeps a copy of US Magazine in his locker: if he can't throw strikes, at least he'll be up to date on the latest celebrity gossip.
posted by Yankees Chick @ Tuesday, November 15, 2005


Sheffield and Wife Safe from Extortion and Creepy Ministers
As you may remember (I had actually just stopped laughing a couple days ago), last year Sheffield and his wife were threatened by a (self-proclaimed!) minister who claimed to have a video showing Mrs. Sheffield sexing it up with "In the Closet" superstar R. Kelly. "Minister" Mosley contacted the Yankees last November to alert Sheff of the existence of the tapes and offered Sheffield's agent $20,000 in exchange for the destruction of the racy tape. Sheff's agent, Rufus Williams, contacted the FBI, and the rest is history…Mosley was convicted of two counts of extortion and two counts of wire fraud in Chicago yesterday.

The best part of the whole story? In trying to explain his actions, Mosley stated that he was never going to expose the tape, but that Mrs. Sheffield simply "needed to atone, she needed to repent." He, of course, was offering spiritual guidance.
posted by Yankees Chick @ Tuesday, November 15, 2005


Drug Testing Program: Terms Settled By Tonight?
It looks like the Senate and the players association may have finally found a drug policy that they can both agree on. According to a statement to MLB.com by a "baseball official", the policy could be agreed upon as early as tonight. The current policy, under which thirteen major leaguers have been reprimanded (including Matt Lawton and Rafael Palmeiro), threatens little more than a slap on the wrist: a ten day suspension for the first offense, thirty days for the second, sixty for the third, and a full year in the event you still haven't learned your lesson. Considering that Olympic athletes are banned for life on their second offense, an increase in the severity of the drug policy seems long overdue for baseball and other pro sports.

The new policy will include additional tests and more comprehensive drug screening. The punishments will also be harsher. Once the bill is passed through the Senate, there will be a one year grace period for the MLB to toughen up the drug policy on their own before they will impose their guidelines. Commissioner Bud Selig's proposal calls for a fifty game suspension for a first offense, one hundred for the second and a lifetime ban after the third offense, and while baseball union chief Don Fehr initially rejected the proposition he has apparently reconsidered.

A meeting is scheduled in Washington today between union officials and Representative Tom Davis to go over the new deal. If the terms are agreed upon, I think we can expect a sharp increase in the number of players penalized for drug abuse (due to the increase in tests) - - and a higher premium for any drugs or methods that mask the evidence of performance enhancing drugs during testing.
posted by Yankees Chick @ Tuesday, November 15, 2005


A-Rod Beats Papi 331 Votes to 307
Monday, November 14, 2005

My faith in the BBWA has been restored as they voted in A-Rod as the AL MVP. Looks like Papi will have to cultivate some defensive skills if he hopes to win a future title.

Labels: a-rod support, accolades
posted by Yankees Chick @ Monday, November 14, 2005


AL MVP Race: A-Rod vs. Big Papi (No Contest)
The winner of the MVP award for the American League will be announced today, and as expected A-Rod and Ortiz are the top two candidates being discussed. Personally, I don't even think it's a competition; A-Rod is clearly more deserving as he excelled in all aspects of the game. The outcome of this contest should be easy to determine based on these three factors:

- Batting: A-Rod hit .321/.421/.610 with 48 homers. Fat Papi hit well, too, but his .300/.397/.604 and 47 home runs fell short of A-Rod's amazing stats. A-Rod also had fourteen more hits and stole twenty-one bases.
- Stamina: A-Rod played in every single game in 2005, and all but one of those as a position player. Ortiz served only as DH in all but ten of the 159 games he took part in. I am willing to bet that any position player will testify that it is much harder to put up such high numbers game after game when they are executing double plays, diving for line drives and trying to prevent a steal at third.
-DEFENSE: A-Rod plays it, Ortiz does not. It's as simple as that. A-Rod plays defense day in and day out while Ortiz sits on the bench waiting for his turn to hit. In the ten games that Ortiz did have to play first base (inter-league non-DH games) he managed to make two errors. A-Rod, on the other hand, committed just twelve errors over the course of the 161 games he was on the field. This is why I stand by my position that Ortiz, and designated hitters in general, do not deserve the same recognition that a comparable position player deserves. It takes a better athlete to deliver on the field and at the plate.

Labels: a-rod support, accolades
posted by Yankees Chick @ Monday, November 14, 2005


Weekend Update: Sosa and Palmeiro Out, Matsui Deadline Nears…
Sunday, November 13, 2005
First of all, that title is likely copyrighted. However, since I probably have fewer than, say, twenty readers, the odds of someone caring are slim. So use it I shall!

It's been a fabulous long weekend (Veteran's Day…a holiday only cared about by people whose bosses give the office a day off), and there's much to talk about before the week begins. From the top!

- Sammy Sosa and Rafael Palmeiro will not be seeing the inside of the Orioles' clubhouse in 2006. Sosa and Palmeiro worked themselves into two of the biggest jokes in the MLB last year, Sosa through his amazingly rapid decline and Raffy via a steroid scandal and suspension. Enough is apparently enough for the Orioles, who have cut the two loose. VP Mike Flanagan summed it up for the Baltimore Sun: "at this point, we are heading in a different direction."

- The Matsui resigning deadline is FAST approaching - - Tuesday, in fact. Talks appear to be going well between Cashman and Matsui's agent Arn Tellem, though, and a four-year deal valued around $50 million is rumored to be the offer. I'm staying optimistic about this one; barring any major snags Matsui should be in pinstripes for the next several years.

- The fates of big namers Trevor Hoffman, Bengie Molina and Javier Vazquez are all still up in the air at this point. As I mentioned last week, Trevor is not pleased with any offer the Padres could potential extend as he feels he is worth much more than what they can afford (despite his age, he is probably right). He apparently walked out on a meeting with the Padres, so I'd say his list of potential homes for 2006 definitely does not include San Diego. As for Molina, the Angels have declared that they will not be pursuing him, much to the delight of the 3240832408 teams in the league that need catchers. And down in Arizona, former Yank Javy will not be putting on the "sexy" purple and black next year – he is looking to join a team on the east coast to be closer to his Puerto Rico home.

- As is to be expected, Roger Clemens filed for free agency while also saying that he hasn't decided if he'll be pitching in 2006. Last season he showed us some of his best stuff of his career, so it is unlikely that he'll retire after that performance. Also, don't forget about Koby Clemens, Rocket's catching son. I doubt that Roger will quit before he gets to pitch to his son in at least one major league game.


As the off season progresses, the controversy that ensues should be legendary. I anticipate an unusually high number of big trades due to the lackluster free agent market; I'm just hoping that the Yankees don't put themselves on the "sucker" end of the deals…

Labels: free agency/arbitration
posted by Yankees Chick @ Sunday, November 13, 2005


AFL Winds Down, But Not Before Some Yankees Prospects Can Make Us Optimistic
Friday, November 11, 2005
Duncan makes the play



Though their team finished at an even .500, a few Yankees farm boys did their best to get some attention from the execs. My personal favorite, AA infielder Eric Duncan, finished the mini-season with a .362 average, eight homers and twenty-seven RBIs. Righty T.J. Beam pitched phenomenally throughout the regular season, and the AFL was no different. He carried a 1.53 ERA and struck out twenty; he only allowed two walks. Furthermore, Bronson Sardinha, an outfielder in AA, hit .344 and slugged .510.

After years of watching the Yankees sign older, often past their prime players from other teams while teams like Atlanta and the Mets cultivate their own stars through their farm systems, prospects like this make me hopeful for a change. I would like nothing more than to watch more players like Small and Cano develop their talent in pinstripes. I like the headline of Kevin T. Czerwinski's MLB.com article: "Yanks Rediscovering Their Farm System." Let's just hope someone informs Steinbrenner before he sells these boys off in exchange for Sammy Sosa, Bret Boone, or Steve Finley.

Labels: farm hands
posted by Yankees Chick @ Friday, November 11, 2005


Yankees Prepare an Offer for Matsui; Cashman States the Obvious
The New York Post has reported that Cashman is prepared to offer Matsui a substantial four-year contract at around $12 million per year. The Yanks only have till Tuesday to hammer out a deal with Matsui; if they fail to come to terms by then they will have to wait until May to take any further action. If no agreement is made by Tuesday the Yankees will virtually throw away any opportunity to resign him, so these next four days are crucial.



When asked to comment about the state of affairs, Cashman offered some words of insight and wisdom to the Post: "It's rather simple: [Matsui] is either going to be with us, or he won't." In preparation for the latter, Cashman has reportedly been in touch with Brian Giles of the Padres.

Labels: free agency/arbitration
posted by Yankees Chick @ Friday, November 11, 2005


Free Agent Signing Period Starts Tomorrow
Thursday, November 10, 2005
Friday marks the start of the free agent signing period and rumors are flying throughout both leagues. Here are a few that have piqued my interest:

1) Trevor Hoffman: The Padres' closing sensation says that the Pads are "not even being fair" in their offers to him and that he is looking for "fair market value". Unfortunately for the Padres, I'm sure that Trevor will be on the receiving end of some very eager offers. The Mets, for one, would be one step closer to perfecting their powerhouse team if they could lock up a lights-out closer like Trevor, and their GM has made it known that that is a priority.
2) Paul Konerko: His value was high before Chicago's post season exploits - October simply confirmed to any potential suitors that they'll be spending a pretty penny if they want to add a power-hitting infielder to their lineup. Both Boston and Anaheim (excuse me, "Los Angeles") are rumored to be after him, although my bet is that the White Sox will do whatever it takes to re-sign him.
3) B.J. Ryan: 2005 was his first season as a full-time closer, and he converted 36 of 41 save opportunities. He's also a lefty, which will up his value, and his youth is a plus as well. There has been talk of the Yankees signing him as Mo's set-up man, to which the Yankees Chick says a hearty "please!" They'll have to contend with interest from Boston, Toronto, and Houston, though.

I can't wait to see the offers and rejections start rolling in....let the games begin!

Don't forget all the other free-agents: Burnett, Giles, Wagner…
Free Agent Tracker


Labels: free agency/arbitration
posted by Yankees Chick @ Thursday, November 10, 2005


Torre Recognized for his "Safe at Home Foundation"
Wednesday, November 09, 2005
---

"The same determination he has shown in his baseball career exists off the field, as well. I admire his courage in using his popularity to put a face on an important issue that affects so many families. We are delighted to add him to our All-Star team of honorees."---

(Miriam Arond, Child magazine's editor-in-chief)

Child Magazine honored Joe Torre and five others with a Children's Champion Award, an award created to recognize those who make continued efforts to enhance and enrich the lives of children. Torre's Safe at Home Foundation, for which I'm sure you've seen plenty of ads during games, works to educate and decrease domestic violence through outreach programs and educational activities. The foundation was created as a legacy to Torre's mother, who Torre saw abused by his father throughout his childhood. It is so refreshing to see a person use their influence and position – and money – to make a difference in the community.

Labels: accolades, do-gooders
posted by Yankees Chick @ Wednesday, November 09, 2005


Guillen and Cox take home Manager of the Year awards – No Surprises There
Contrary to my feelings about the winners of most of the other awards that have been given this post season, the Yankees Chick is actually in favor of these recipients. Cox has proved himself to be a very consistent manager, leading the Braves to an absurd fourteen division titles (never mind that only one of those resulted in a World Series win). Even more important than his record, though, is the great reputation not he has earned as an inspiration and motivator to his players. His counterpart, AL Manager of the Year Guillen has earned a similar reputation. Guillen would be a deserving candidate regardless of the outcome in the World Series; in the two seasons that he has been at his post in Chicago he has created a team that exhibits not only talent but true sportsmanship. Sure, it sounds a bit silly, but it's those little "intangibles" that add up to give a team an edge. Both Cox and Guillen certainly have had the obvious advantage of the capable athletes that they manage, but their managerial talent is admirable and warrants recognition. Perhaps when the MVP awards are unveiled I'll be able to forgive the BBWAA for choosing Colon…

Labels: accolades
posted by Yankees Chick @ Wednesday, November 09, 2005


Tino Out; Yankees' Reduce Payroll a Whopping $3 Mil
Tuesday, November 08, 2005
Tino Martinez officially became a free agent today when the Yanks passed on the $3 million option on his contract. Though Tino was essential during his first tenure in the Bronx in the late nineties, his performance in the 2005 season may have fallen a tad short of the Yankees' expectations. In his heyday with the Yankees he hit as many as 44 homers and came close to hitting .300; his numbers this year topped out at .241 with 49 RBIs and 17 homers (ten of which occurred in May). His defense was top notch though, which the Yankees needed more than his bat. To call Tino's year disappointing would be selling him short – he was there to serve a defensive purpose – though I can't help but think that fans and management alike were expecting more.

At the GM meeting in California, Brian Cashman noted "at this stage, I'm just trying to reduce payroll". He also discussed Andy Phillips, who has played 32 games at first base for the Yankees in the 2004 and 2005 seasons, as a possible backup for Giambi next season. It's barely November, so Steinbrenner's and Cashman's master plans for their 2006 team are just beginning to show their shape….who knows what they'll do with that extra (gasp!) $3 mil laying around on the payroll…

Labels: free agency/arbitration
posted by Yankees Chick @ Tuesday, November 08, 2005


Colon Silently Thanking His Run Support
Don't disparage my W's!

The AL Cy Young award was given to Bartolo Colon today, edging out Mo and Santana by a surprising margin. While he certainly had a solid season, Colon really didn't put up the same performance that either of his top two competitors did. He finished the year with a 3.48 ERA and struck out 157, which put him behind seven others in the AL. How do these voters look at Colon's numbers and see the best pitcher in the league?! His numbers are nothing to sneeze at, sure, but they don't seem like they should warrant an award as prestigious as the Cy Young. No matter, though - Colon was saved by that magic letter that seems to be the only factor pitchers are judged by: the W. He was the only 20+ game winner in the league, clearly setting him apart from the others. Perhaps I would be debated by Colon or other pitchers, but I am of the mindset that wins really do not tell the whole story. I don't put much value in to the W-L record. I am at a loss for why people place such heavy weight on the number of wins a pitcher earns, when it is clear that other factors will slap a heavy bias on the win-loss record one way or the other. I'm sure Clemens would like to have run support talked about a bit more. A pitcher can pitch a two-hitter and get a loss, or let five earned runs come in and take home a win thanks to some power hitting by his offense. Colon's impressive win-loss record is more a testament to the strength of the Angels' offense than to his pitching prowess!

Both Mariano and Santana had spectacular years in 2005; Mariano posted a career best 1.38 ERA, while Santana finished with a 2.87 ERA and 238 strikeouts, both of them easily surpassing Colon. I am crossing my fingers that the NL award goes the very deserving Clemens, despite his unfortunate 13-8 record (thanks for the run support, Houston).

I realize that talent needs to be quantified in some way (thank you, Sabermetrics!), but there are plenty better benchmarks to look at than wins or saves. Someday, when I start my "Play By My Rules" baseball league, wins, losses, and saves wont even appear on the box.

Labels: accolades
posted by Yankees Chick @ Tuesday, November 08, 2005


Guidry is Making Me Hopeful….
Hell yes



Friday's hiring of Ron Guidry as our new pitching coach has added another link to the ever strengthening 2006 coaching chain. The Yanks have hired five new coaches in the past week or so in an attempt to revamp the coaching staff and hopefully amp up the voltage on the team for next year (it's time to win a championship). Guidry will be joined by Joe Kerrigan in the bullpen. Both Gator and Kerrigan had successful careers on the mound; I'm sure we all remember the days of Willy Randolph and Guidry in the late eighties. These two will hopefully also be bringing a good attitude to the pitching team - morale may need a bit of a boost after the dismal pitching year we had last year.

It thrills me to see the Yankees bringing their former players back to coach or manage. I think that it makes the club more unified, and former players are always happy and enthusiastic to be back with their old team. As Guidry said, "It was no secret when I had several chances to leave as a free agent; I never chose to go anywhere. I never envisioned there was any place better to play than in New York. I can't go back and play, but to go back in a capacity as a pitching coach and become part of the organization again, it's a great honor and a great challenge. I think it's going to be fun."
posted by Yankees Chick @ Tuesday, November 08, 2005


Cano Comes in Second in the AL Rookie of the Year Race
Monday, November 07, 2005
Street shows his award-winning stuff
Cano makes us forget he is just a rookie



Despite his hot bat and smooth moves on the double play balls, Cano was passed by for the AL Rookie of the Year award. Huston Street, who served as the closer for the A's, was honored today; he is the seventh Athletic to earn the title and the second consecutive (Bobby Crosby - - no no, not Bubba received the award last year). While I would love to see Cano honored, if he had to come up short in the voting, I'm glad it was to Street. This young lad converted 23 saves in 27 opportunities with nary a twitch of his 22 year old nerves. His 1.72 ERA was second only to – you guessed it – Mariano Rivera. To come in and make such an impact as a closer is incredibly rare, and Street's talent is exceptional enough to make him stand out in a group of many fine rookies: Cano, Chacin, Iguchi, Gnomes…. It is definitely of some consolation that two names on the list of Rookie of the Year contenders are Yankees. I'm sure I'm preaching to the choir, but the thought of shooing the Kevin Browns out to make way for the Canos nearly brings tears of joy to my retinas.

My one question is this: the awards were voted on by members of the Baseball Writers Association of America…how do I get in that club?!


Labels: accolades
posted by Yankees Chick @ Monday, November 07, 2005


The Future of the Outfield May Be in BUBBA CROSBY'S Hands
Friday, November 04, 2005
He looks awesome in that AAA Columbus uniform, doesn't he?



As if to play on our worst nightmares, the Newark Star-Ledger reported this morning: - - -"According to a person present at this week's organizational meetings, some at the sessions were in favor of trying Crosby rather than overpaying for a center fielder. " - - -

Now, I highly doubt that I am the only Yankees fan who is going to read this and kick my computer with a steel-toed boot, and truth be told, I bet I would be hard-pressed to find any fan who would support an asinine move like this. This seems like a very poor time to be scrimping and saving, especially in the outfield. While I will concede that pitching is more likely to be the number one concern for management when it comes to contracts and overpaying athletes, our outfield absolutely needs to a top priority. It is not as if there are no options. We have boys in the minors that are tearing up the field, and very available experienced players like Milton Bradley and Torii (!) Hunter are available as well. I do agree that players are being overpaid, but using Bubba Crosby as a starting outfielder as an alternative is simply not the answer. I get frightened enough when Bubba comes in to pinch hit; I really don't think my nervous system could handle it if Bubba was in the daily lineup.
posted by Yankees Chick @ Friday, November 04, 2005


Giambi's Comeback Extends to His Endorsements
Giambino is back!



Things were looking grim for old Giambi last year after he admitted to knowingly using steroids (it's apparently very common to use steroids and not know it…which really does not say much for the intelligence or coherence of the players who did not know they were injecting themselves with drugs); his performance was slumping and he was losing endorsement deals left and right. Arm & Hammer decided he wasn't hitting enough to possibly be sweaty enough to require their deodorant and dropped him early in the season, as did Pepsi. Nike followed suit as well, leaving Giambi forced to wear shoes he was not endorsing! What's a kid to do?

In Giambi's case, come back with a vengeance. Giambi kicked himself into high gear after being "asked" to consider a trip down to AAA and managed to produce one of the best comebacks I've seen in my day. He finished the season with a .271 batting average, 32 homers, and a very respectable 87 RBIs – and accomplished most of that in the second half of the season. He was voted Comeback Player of the Year for the AL and earned back most of the respect he lost with the steroid scandal (if only he hadn't taken them knowingly, like Palmeiro!), but his comeback was not truly complete until yesterday, when he signed an endorsement deal with Reebok. After all, an athlete is not truly an athlete until they are branded with at least one sports-related conglomerate!

Anyway, Giambi is thrilled to add Reebok to his product list. In a statement, he said "Reebok has a long-standing history of being loyal to their athletes and I am excited to be partnering with a company who truly values the players they endorse. I look forward to getting back on the field next season and representing the brand to the fullest." I think that as long as Giambi continues to deliver the way he was in the latter part of the 2005 season, neither Reebok nor the fans will be disappointed.

Labels: steroids
posted by Yankees Chick @ Friday, November 04, 2005


A-Rod is Being Watched: Poker Hustling Apparently Looked Down Upon in MLB
Thursday, November 03, 2005
Though it's not clear by whom he was warned, A-Rod has apparently been advised to steer clear of the illegal poker venues he frequents with pro player Phil Hellmuth. The reason given for the 'advice' was that such behavior could harm his image (apparently, A-Rod has some sort of saintly image I was not aware of). Playing in the clubs is not in itself illegal, as they are private, although running them could be illegal in certain circumstances. No one from the Yankee camp will admit having had any part in the alleged warnings. MLB commissioner Bud Selig is reportedly "monitoring" the situation, and will "intervene" if necessary - - for A-Rod's sake, hopefully not when he has pocket aces.

Labels: a-rod trouble
posted by Yankees Chick @ Thursday, November 03, 2005


So Long, Sojo
Former Royals manger Tony Pena has been named as new first base coach for the Yanks, ending any speculation that Luis Sojo will take the post. Sojo, as you remember, was the third base coach during the last two seasons, but had been replaced by Larry Bowa last month. It was rumored that Sojo would perhaps shift over to coach at first base, but with the hiring of Pena it looks like we'll have to come up with a new rumor. The most likely scenario for Sojo will be a managerial post with the single-A Tampa Yankees.
posted by Yankees Chick @ Thursday, November 03, 2005


Matt Lawton BUSTED!!
Wednesday, November 02, 2005
Watch out for the crazy power hitter



Matt Lawton, who played just twenty-one games as a member of the Yankees, will be sitting out the first ten games of the 2006 season as punishment for failing a steroids test. Lawton is the twelfth major leaguer to be reprimanded for steroids this season (which is a bit scary when you consider how many must have evaded it thus far). During his time with the Yankees he hit a dismal .125, though he did hit two homers - - ridiculous power like that should have rung some alarms on the steroid meter; I am shocked that they didn't suspect him earlier!

Bitter? Yes. I do, however, find a certain satisfaction in finding out that steroids did not help a player. It is somehow so pathetic; these past-their-prime players using steroids to try to propel themselves into the kind of success they enjoyed earlier in their career.

Labels: steroids
posted by Yankees Chick @ Wednesday, November 02, 2005


Yankees Execs Meet in Manhattan
The first of the winter planning meetings got underway yesterday in New York City. Bigwigs from NYC and Tampa gathered together to plan for changes that would be made during the off-season. Although Cashman and Steinbrenner both issued the obligatory "no comment" on the goings-on in the secret meeting, it is likely that issues discussed included coaching options, how to fill up the bullpen, and the impending Matsui deadline.

The Yankees front office certainly has their work cut out for them. They have already begun to fill in the holes in the coaching department; Bowa is signed up for third base duty and Lee Mazilli (ex- manager of the Orioles) is rumored to be penciled in as Torre's bench coach. As for the pitching deficits, former Yankee pitching machine Rob Guidry is a possibility for pitching coach, but there's no word or even a rumor of who his pitching students may be.

The biggest and most pressing concern that the execs are likely hashing out during these meetings is the Matsui contract. As I've mentioned before, this season was the last in his three-season contract, making him eligible for free agency. The Yanks now have till the fifteenth of the month to re-sign him, or they will be forced to release him and won't be able to discuss any contract options with him until next May. Yikes! It is rumored that Matsui's agent is looking for a four year contract, to be worth between 42 and 46 million dollars. Matsui's agent, Arn Tellem, will be meeting with Cashman next week to discuss contract options, so stay tuned for info on that...I'm sure the rumor mill will be churning at high speed!
posted by Yankees Chick @ Wednesday, November 02, 2005


Jeter "Honored" To Receive Gold Glove
Tuesday, November 01, 2005
In an official statement today, Jeter remarked on his second Gold Glove win:

- - - "I know I said it last year, but winning the Gold Glove -- for the second consecutive season -- is extremely gratifying. Defense usually doesn't make many headlines, but it goes a long way towards winning baseball games. There are a number of ways to make an impact during the course of a game, and playing solid, sound defense is one of them. To be recognized with a Gold Glove -- with so many other worthy shortstops in our league --is an accomplishment I hold with great honor." - - - 11/01/2005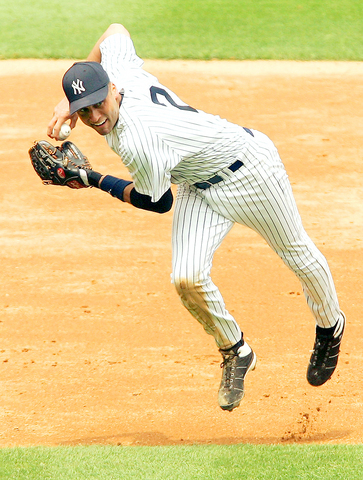 The feet of Gold Glovers apparently don't need to touch the ground....
Labels: accolades, jeter jeter pumpkin eater
posted by Yankees Chick @ Tuesday, November 01, 2005


Jeter Takes Shortstop Golden Glove Award: Calm Down, Critics
The winners for the American League Gold Glove awards were announced, and for the second consecutive year Jeter claimed the Shortstop honor. The other members of the symbolic infield included Varitek, Teixeira, Orlando Hudson from Toronto, and Eric Chavez, with Krazy Kenny Rogers somehow stealing the pitchers award. The outfield awards went to Ichiro, Vernon Wells (strangely, the second player from Toronto recognized by Rawlings), and my future Yankee favorite Torii Hunter.

Cynics generally don't put much stock in awards like the Gold Glove or Silver Slugger, and for the most part, I agree. They are 'fluff' awards, the winners voted for by managers and coaches. While the voters certainly take stats and numbers into consideration, the awards are not necessarily given to the players with the highest fielding percentage or lowest number of errors. Even Jeter, who I love, probably was not the best shortstop numbers-wise this year. Not to say that he wasn't good - - his fifteen errors and .979 fielding percentage surely qualify him for a hearty "thank you" and a pat on the back, perhaps a six pack of Budweiser Select, I'm just not sure that they make the grade for such a grand award.

This is the part where I disagree with myself. Personally, I like that the managers and coaches take things like leadership and effort into account. Numbers can be deceiving sometimes; any pitcher who has had their ERA inflated due to the Colorado air can attest to that. The subjectivity of errors irks me as well; there are plays where errors are charged when perhaps it was an impossible play, and on the other side of the coin, there are plays when perhaps the scorekeepers are taking a home field advantage into account and allow a play to be called a hit rather than dock an infielder with an error. Statistics are certainly a valuable tool in getting an overall look at a player's value, but I don't believe that they paint the whole picture. It is also tricky to boil some characteristics down to numbers - - clutch hitting, poor base running, fielders choice plays, etc.

So settle down, baseball cynics. While I don't believe that these awards are the end-all way to judge a player, I think that generally they reflect a group of the best all-around players. Never forget what makes baseball so different than football or basketball: in football and basketball, you're watching people rack up numbers and yards and points and free throws….in baseball, we're watching people play a sport and interact with their teammates.

Labels: accolades, jeter jeter pumpkin eater
posted by Yankees Chick @ Tuesday, November 01, 2005


Yankees Chick Tweets!
Fun Fact O' The Week

In 2009 Curtis Granderson published a book: All You Can Be: Dream It, Draw It, Become It! Granderson "shares the lessons that he learned growing up--the importance of family and choosing the right friends, the power of listening and staying positive, and most important, the value of being yourself."
Interleague Play: Love it or Leave it?
Previous Poll Results
Which Former Yank Free Agent Would You Most Like to See in Pinstripes in 2010?
Johnny Damon
53%
Chien-Ming Wang
26%
Xavier Nady
8%
Jose Molina
6%
Jason Giambi
6%
Jeff Weaver
2%
Catch up! Recent Posts
What'd You Miss? Archives
About Me
Name: Yankees Chick
Home: San Diego, CA, United States
About Me: Just your average 26 year old Yankees lovin' gal from the SD.
See my complete profile
Blog Faves
Subscribe
Add to RSS

Search!