Heroes (Advertisers)
Purchase the best NY Yankees Game Tickets from Ticket Brokers Vivid Seats which include NY Giants Tickets, New York Mets Tickets, Knicks NBA Tickets, Rangers Hockey Tickets, Islanders Tickets, Jersey Boys Tickets, , Madison Square Garden Event Tickets New Jersey NBA Nets Tickets and Devils NHL Games .

---
Find New York Yankees tickets and other hot MLB tickets at CTC! We carry Cardinals baseball tickets, Red Sox tickets in Boston, Detroit Tigers tickets, Dodgers tickets and World Series tickets as well as New York Giants tickets and hot show tickets, including Coldplay concert tickets, Conan O'Brien tickets, NY theater tickets and Broadway show tickets.

---
---
View blog authority

The Mets Love Big Willie Style, And I Love Joe Torre
Sunday, January 28, 2007
Former Yankees player and coach Willie Randolph has been skipper-ing for the Mets since 2005, and he's done Torre's mentoring proud:
the Mets went 83-79 in his first year with the team and were just 1 game away from a World Series appearance last year
(sorry to remind you, Mets fans...). This week he was rewarded by Mets owner Fred Wilpon with a
new 3-year contract
that will earn him $1.4 million in 2007, $2 mil in '08, and $2.4 mil in '09, making him one of the longest-tenured managers in Mets history; only Davey Johnson and Bobby Valentine have lasted longer.
Across town at Willy's alma mater there's another manager who is making big bucks, a man by the name of Joe Torre (not sure if you've heard of him...).
Torre is currently the highest paid manager in baseball
, bringing in a cool $7.5 mil for the 2007 season, but his boss is a bit harder to please than dear Wilpon.
Big Stein has proven himself as a bit of a fickle pickle
, hiring and firing managers like it was going out of style faster than that horrible emo haircut ever 20-year-old male was exhibiting a couple years ago, and Torre has spent most of his time with the Yanks knowing
he could be kicked to the curb by the boss at any moment.
After the Yanks soul-crushing loss to the Tigers last October, Big Stein was eager to cut Torre loose, and if not for some persuasive influence by Cashman and other front office bigwigs, we would have had to see Lou Piniella - or worse, Dusty Baker? - sitting on the bench with Mattingly this year instead of ol' #6.
Soul-crushing post-season as it was,
I don't think many Yankees fans (or officials, save for Stein), wanted to rid the team of Torre. What Torre does for the team, and what he seems to have passed on to Big Willie Style, is
create a sense of camaraderie and work ethic in clubhouse that fosters a winning attitude regardless of the different backgrounds of the players.
There are plenty of teams with talented players, but much of the Yankees' continued successes can be attributed to the value Torre places on work ethic and his motivational style. The Mets seem to be responding in a similar fashion to Willie's influence,
making the Yankees Chick all the more eager for a Mets-Yankees Subway Series World Series Showdown
(I must trademark that phrase ASAP) in 2007. I'm happy to see a former Yank succeed in such a high-pressure job - - just as long as he remains just a close second to Torre's success!!
Labels: front office
posted by Yankees Chick @ Sunday, January 28, 2007


The Red Sox are the New Yankees...Except For All The Winning
Wednesday, January 24, 2007
For most of my lifetime, the Yankees have been known for 3 things:
dominating the AL East, signing
old guys
, and spending a lot of money
to lure the biggest names in the game to the Bronx.
Red Sox
fans, whose team has long been doomed to be a
perennial second banana
to the Yanks (I was in a medically-induced coma in October of 2004, so I have no comment on the goings-on of that period), have always seemed to take greater joy from their hatred of the Yankees' spending and all-star lineup than from the successes of their own team, dubbing the Yanks the "Evil Empire" and
cultivating a superiority complex rivaled only by that of fundamentalist Christians.
The tide has been changing out on the East Coast, though, for both the Yanks and the Sox.
Steinbrenner
isn't getting any younger, and he seems to have finally
loosened the death grip he's had over the decision-making process
enough to let the Cash Man's superior business sense and baseball instincts make an impact on the team. Cashman
has not traded away any top prospects or signed any 40+ veterans
in the past several years; in fact, he has made an effort to rid the team of some older players that were sucking up payroll (not to mention bringing morale down with their foul attitudes...I'm looking at you, Sheff and Unit) in favor of stockpiling promising prospects.
Cano, Wang, and Melky
have shown fans and critics that the farm system
is
producing some enviable talent and has made the Yankees Chick hopeful that the Yanks will continue to promote youngsters from within the system.
While the Yanks have been taking strides to
lower
payroll and bring the average age of their team down from senior citizen status, the Red Sox have been selling their farm to feed an apparent new addiction to big names. After the 2005 season, they let their top 2 prospects go - -
Mr. no-hitter Anibal Sanchez and 2006's rookie of the year, Hanley Ramirez
- - to sign Josh Beckett and the overpriced Mike Lowell, traded a great young pitcher (
Bronson Arroyo
) for a decent 4th outfielder (
Wily Mo Pena
), and ditched
Mirabelli (AKA Tim Wakefield's girlfriend)
only to give up a 21-year-old pitcher (
Cla Meradith
) and solid backup catcher (
Josh Bard
) to get Mirabelli
back
mid-season!
This year, they set their sights on Matsuzaka and bid an absurd
$51+ million to secure the negotiating rights,
almost $20 million
more
than what the 2nd- and 3rd- place teams were willing to pay to deal with Matsu. There is virtually no question that
Matsuzaka is a huge talent
, but the lengths the Sox were willing to go to just to ensure that no other team could have him speaks volumes about their new M.O. For comparison, the Red Sox have tacked on an
extra $40 million in payroll
this year (assuming the JD Drew deal eventually gets finalized at a price anywhere in the neighborhood of the 5-year, $70 million he was originally offered), and the Yankees have brought their payroll
down
by a good $15 million; Boston's payroll looks to be just $20 million less than the Yankees' in 2007.
Red Sox fans have spent many years rationalizing their team's shortcomings by claiming that the Yankees "buy" their championships and sell their young players for veterans, but
the Yankees have shown that those days are all but over
. As for the Sox...I think the MLB has found its new "Evil Empire" - - except this one comes without the winning.
Labels: red sox rivalry
posted by Yankees Chick @ Wednesday, January 24, 2007


Emotions Speak Louder Than Logic - - But There's NO CRYING IN BASEBALL
Thursday, January 18, 2007
Even though I'm pretty sure Bernie stole that shirt from Salma Hayek's closet, you would have to be a heartless beast to dislike this man.
Yankees Chick readers (all two of you), I fear I may be turning into the kind of fan I hate with a passion - the type of fan that cares more about the team winning than about the players themselves. On Monday, I shared my desire for Roger Clemens to rejoin the Yanks, despite the fact that I abhor the behavior he's displayed over the past few years, and today I shall admit another secret:
I don't really think Bernie should be back in pinstripes this year.
Like most Yankees fans, I have reserved a special corner of my heart for dear Bernie Williams. For the past 16 seasons, we have watched Bernie rise to the status of baseball icon, break records, and rack up an incredible number of post-season feats
(see left!)
, and I think he might be the only athlete (or celebrity, or politician, or D-list talk show host...) that has
managed to go his entire career without offending a minority group or partaking in
an embarrassingly hilarious alcohol-induced altercation with Lindsay Lohan.
His dedication to great causes like
Neighbors Helping Neighbors
and the
Childrens Health Fund
sets Bernie apart from the self-centered norm, and even a punk-loving gal like the Yankees Chick must admit that his jazzy-classical CD is quite good - not to mention positively endearing. Bernie is a great ballplayer and a class act, there's no doubt about that.
Everybody
loves Bernie, and a lot of Yankees fans are wholeheartedly rooting for the Yanks to resign him for the 2007 season. The Yankees Chick herself has even been pulling for the return of Bernabe, but lately I've been taking a good, hard look at the Yanks' roster and their 2007 needs, and I must admit:
The Yanks have no business resigning Bernie for 2007.
It pains me to no end to admit this, but I'm afraid it's true. I still contend that Bernie has plenty left to offer; a team could do much worse for a backup outfielder - but
the Yankees have no need
for another outfielder or even another bench player.
Melky
, who is 16 years Bernie's junior and has the potential to be a integral piece in the Yanks' puzzle (even if its as trade bait at some point...), is more than capable of serving as the 4th outfielder behind Matsui, Abreu, and Damon. As for extra bench spots,
the signings of Cairo and Mientky have all but closed the door
on any chance of Bernie being signed on as a pinch-hitter/occasional DH - - - and if there
is
any extra room on the roster, Cashman would almost certainly stock up on more pitching.
Much as I hate to see an era end,
I'm afraid Bernie's days on the Yanks' field are over.
Sad as that makes me, #51 will be retired and out in Monument Park in no time, and I'm willing to bet Bernie will wind up back on the bench with a coaching job before long - - and only then will I be able to assuage my guilt for publicly admitting that the Yanks don't need Bernie for a 17th season.
Labels: bern bernie bern, rumors
posted by Yankees Chick @ Thursday, January 18, 2007


You Make Me Sick, Rocket...But Get Over Here.
Monday, January 15, 2007
Much as I love the Rocket's pitching and am

praying non-religious prayers for his imminent return

to the Bronx, his diva antics are making the Yankees Chick more than just a little bit ill these days.

Since coming back from
the dead
retirement for the 2004 season,
Clemens has finagled some seriously prime deals
for himself down in Houston. For the past 3 years the Astros have essentially given the Rocket free reign over his schedule, letting him start the season late last year and even allowing him to skip out on road trips to stay in Houston with his family; he wasn't even required to
show up
to the stadium on days he wasn't scheduled to pitch. In 2004, which was supposed to be his first year of
retirement
(see left and recall, if you will, the lavish fanfare the Yankees showered upon him during his "last" year in 2003)
, the special treatment the Astros bestowed upon Clemens seemed a bit excessive but made sense for both parties - - The Astros needed a big name and a star pitcher, and
the Rocket barely had to rearrange his retirement activities schedule to accommodate a

once-every-five-days workweek
. By 2006, though, when
Clemens strung the Astros (and all other potential suitors) along for months by not committing to playing a full season or even to a particular team
, his attitude began to wear on me.
It's 2007, now, and the Rocket is still playing his mind games with the MLB and us fans. His agent/wrangler Randy Hendricks has confirmed that he is "
more than 50/50 [certain] that Roger will play in 2007
", but also adds that the Rocket will probably be looking for another shortened season deal. It seems fairly certain that the only teams he would be willing to pitch for would be the Astros, Yankees, or Red Sox, but neither Clemens nor his wranglers will comment on which - if any - team interests him most, and
he will likely go with whichever team is showing the most promising signs of post-season success come June
. This heartless mercenary M.O. both depresses and
sickens the Yankees Chick
, who prefers to believe that her most beloved players care about more than shiny rings. What Clemens is doing is creating a
precedent of self-centeredness
that inconveniences teams and teammates and places a virtually un-cappable ceiling on what clubs will have to do to secure star players in the future.
That being said, I really do believe
the Rocket is just what the Yankees need
for their 2007 roster, and I think the Yanks are in a position to offer him a contract chock full of the special treatment and celebrity perks he will surely demand. By not pitching until June, the Rocket would actually allow Torre to
try out Phillip Hughes et al in the starting rotation
for a good two months, giving the Yanks a perfect opportunity to feel out their future talent, and while he obviously wouldn't be able to go home to Houston every week, I'm sure Clemens would be permitted to take a reprieve from the
tough world of pitching once every five days for a team that obviously loves him to bits
at least once a month. The Yanks would almost certainly be willing to top any offer the Red Sox and Astros put on Rocket's table, and if the Rocket is choosing his team solely based on post-season chances the Yankees are the obvious favorite at this point.
So pass me that
All-Purpose Yankees Pail
you got as a Christmas/Hanukkah/Kwanzaa/Sacrifice of the Virgins gift.
He may make me ill, but I'm rooting for a return of the Rocket.
Labels: free agency/arbitration, rumors
posted by Yankees Chick @ Monday, January 15, 2007


In The Year 2000 (...7)
Sunday, January 07, 2007
The dawn of a new year is a time for
good intentions
("I
will
use this gym membership this year"; "I'm going to cut up these credit cards and
seriously
not call the bank in 2 weeks to order a new one") and
hopeful goals
("this will be the year that I really knuckle down and start saving some money for the future!") that by February 1st will be
as forgotten as the Royals in October
, but along with the obligatory resolutions, the start of the new year is a great time to
focus on the future and anticipate the changes the next 12 months will bring
. The world of baseball is an ever-changing entity, and to help get you prepared for the upcoming year's events, the Yankees Chick has taken a good look into her crystal (base)ball and will share with you here the visions she saw of the year 2007:
A-Rod will become the first player since Ted Williams to hit
.400.
Sadly, most of his hits will take place when there are no runners on base and his accomplishment will be overshadowed by annoying people calling him "A-Fraud".
The Yankees Chick will finally memorize how to spell and pronounce '
Mientkiewicz
', only to see him traded mid-season for Mark
Grudzielanek
.
X-rays taken during a routine physical will reveal that
Carl Pavano
's body is, in fact, held together by
toothpicks and Elmer's glue
.


Sammy Sosa
will be able to fulfill his desire of playing ball again in 2007 when he borrows a neighborhood child's
MVP Baseball 2004
game for his PlayStation.
Roger Clemens will come back to the Bronx
for his 24th season, but Joe Torre has to ban him from working with his
Safe at Home Foundation
when it is found out that Clemens' secret to staying so dominating as he ages is a daily serving of baby stew.
ESPN's
Bonnie Bernstein
will be involved in a disfiguring freak accident involving a tube of red lipstick, a boom mic, and Kevin Brown - - - and the Yankees Chick will take over as ESPN's token female broadcaster.
And finally...
The Yankees will win their 27th World Series title
, but not before dealing with a minimum of 4 injured players, a mid-season embarrassing series loss to the Royals, a nervous breakdown by A-Rod, and 8 Steinbrenner fainting spells.
Labels: a-rod support, haha...ha., pavano must die, steroids
posted by Yankees Chick @ Sunday, January 07, 2007


You Say Goodbye, but I Say Hello (1 Goodbye, Hello x 5)
Friday, January 05, 2007
After several months of quiet on the eastern front, the

Yanks are ringing in the new year with a couple of lucrative moves

in hopes of securing that elusive 27th gaudy ring.

Deal #1 will bring
first baseman extraordinaire
(left...that is a beautiful, beautiful sight)
and former BoSock (BoSox? What is the singular form of Sox?)
Doug Mientkiewicz
to the Bronx for a cool $1.5 mil for the 2007 season. Mientky will take over the daily first base duties, freeing Giambi up for full-time DH work and freeing the Yankees Chick from having to watch the
lumbering (fat?) Giambi awkwardly shuffle towards 1st
to retrieve a double-play throw from Jeet or Cano. Where the move leaves Andy Phillips, who played 94 games at first base in 2006, is unclear. I would imagine that he will remain on the roster since he has also proved that he can play 3rd base in a pinch (he's played 15 games there over the past 3 seasons), but barring an injury I doubt we'll be seeing much AP in '07.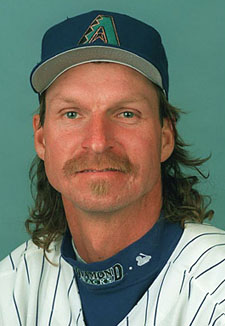 The 2nd deal announced yesterday is, of course, the
Big Unit trade
, which comes as no big surprise after the rampant speculation that took place last week. Mr. Mullet
(see right; Randy, please grow it back, it would make me so happy)
will be heading back to Arizona for both the 2007
and
2008 seasons - the D-Backs are giving the
giant freak
an extension as part of the deal - and reliever
Luis Vizcaino
and 3 exciting prospects are heading to the Bronx. The Yanks will reportedly have to pay between $1.5 and $2 mil of Randy's 2007 salary, which is actually a pretty small sum - teams often have to pay a hefty chunk of a traded star's salary (see Texas Rangers).
Both of these moves have made the Yankees Chick very happy to be a Yankees fan for the first time since October. Mientky may not be an offensive intimidater, but he will certainly tighten the Yanks' defense, an area the team has been in dire need of improving for quite some time. As for the Unit,
I doubt I am the only one that will not miss him
. His attitude really irritates me, and while I do think he is still capable of putting up a solid performance, his work in New York was nothing that can't be replaced.
I'm also very excited about all 4 of the players the Yanks scored from Arizona
. Vizcaino is a solid middle reliever whose presence will strengthen the bullpen - another area that seemingly always needs bolstering - and all 3 prospects (2 pitchers and a shortstop) look very promising. The prospect of having more exciting prospects (see what I did there...I'm clever) to look forward to is something a lot of Yankees fans have been desiring for a long time, and it is thrilling to see Cashman making a serious effort to make the sure the Yanks' farm brings some good crop to the big leagues in the future.
The only downside to these moves is that the roster is getting filled up very quickly, leaving
the chances of another season with Bernie looking slimmer by the day
. Much-loved as he is, I don't see a spot for him with the Yanks for 2007...unless its in a coaching uniform...
Labels: farm hands, free agency/arbitration, roster moves, signings
posted by Yankees Chick @ Friday, January 05, 2007


Yankees Chick Tweets!
Fun Fact O' The Week

In 2009 Curtis Granderson published a book: All You Can Be: Dream It, Draw It, Become It! Granderson "shares the lessons that he learned growing up--the importance of family and choosing the right friends, the power of listening and staying positive, and most important, the value of being yourself."
Interleague Play: Love it or Leave it?
Previous Poll Results
Which Former Yank Free Agent Would You Most Like to See in Pinstripes in 2010?
Johnny Damon
53%
Chien-Ming Wang
26%
Xavier Nady
8%
Jose Molina
6%
Jason Giambi
6%
Jeff Weaver
2%
Catch up! Recent Posts
What'd You Miss? Archives
About Me
Name: Yankees Chick
Home: San Diego, CA, United States
About Me: Just your average 26 year old Yankees lovin' gal from the SD.
See my complete profile
Blog Faves
Subscribe
Add to RSS

Search!