Heroes (Advertisers)
Purchase the best NY Yankees Game Tickets from Ticket Brokers Vivid Seats which include NY Giants Tickets, New York Mets Tickets, Knicks NBA Tickets, Rangers Hockey Tickets, Islanders Tickets, Jersey Boys Tickets, , Madison Square Garden Event Tickets New Jersey NBA Nets Tickets and Devils NHL Games .

---
Find New York Yankees tickets and other hot MLB tickets at CTC! We carry Cardinals baseball tickets, Red Sox tickets in Boston, Detroit Tigers tickets, Dodgers tickets and World Series tickets as well as New York Giants tickets and hot show tickets, including Coldplay concert tickets, Conan O'Brien tickets, NY theater tickets and Broadway show tickets.

---
---
View blog authority

11th Hour Trades: Craig Wilson Comes to New York, Maddux to Dodgers, and More!
Monday, July 31, 2006
Left

: A man likely not on drugs.

Right

: A man likely under the influence of 1-4 illegal substances.



The Nationals may have (stupidly) held on to Soriano, but there were still plenty of other trades going down right up to the 4pm EST deadline. None of the deals were necessarily blockbusters, but the

mid-season shake-up

that the frenzy of trade-deadline transactions brings is always exciting!

After Cashman and Steinbrenner sent 4 minor leaguers to Phillie to bring a big bat in Bobby Abreu and a 4th starter in Cory Lidle to New York, I assumed they were done tweaking the Yankees' roster. Alas, the Pirates came a-knockin' and the Yanks were able to make one more adjustment before the deadline passed. The Yanks and Pirates reached a deal that will bring outfielder/1st baseman Craig Wilson into New York and send constantly stoned-looking Shawn Chacon packing to Pittsburgh. Wilson, who is hitting .267 with 13 homers and 41 RBIs this year, is experienced both in the outfield and at first base, and will probably be taking over for Andy Phillip at 1st base to free Jason Giambi up for full-time DH duty.


Also of note is the fact that the Red Sox made no moves today, choosing instead to hold onto their prospects. This bodes exceptionally well for the Yankees, who are hovering just a half game behind the Sox. Aaron Guile has already been busted down to AAA to make room for the new acquisitions, and either Bubba Crosby or Nick Greene will be joining him soon, leaving nothing but a lean, mean Yankees lineup for the rest of the league to contend with.


Other Notable Trades: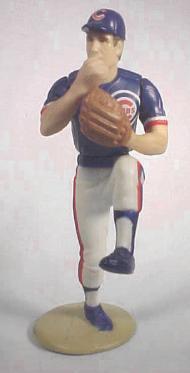 Dodgers and Cubs
Future Hall of Famer Greg Maddux (right, in toy form [that figurine costs $140, by the way]) and his 81 strike-outs will join Brad Penny and Derek Lowe on the Dodgers, and the Cubs will make use of Gold Glove infielder Cesar Izturis' defensive skills.
Dodgers and Devil Rays
The Dodgers shipped 2 prospects, Joel Guzman and Sergio Pedroza, off to Tampa Bay in exchange for infielder Julio Lugo. Guzman, who has played all over the infield as well as left field, is hitting .297 in AAA this year, and outfielder Pedroza was a 3rd round draft pick for the Dodgers last year. The Dodgers scored with Lugo, though, who is hitting .308 with 12 home runs this year.
Padres and Cubs
Infielder Todd Walker will join the Padres to assist Blum and Bellhorn in filling in the gap left by Vinny Castilla (who was released on July 19). In return, the Padres sent minor league RHP Jose Ceda to Chicago.
Mets and Pirates
The Mets' set-up man, former Dodger Duaner Sanchez, suffered a shoulder injury yesterday when a cab he was riding in got hit by a drunk driver. He was a vital piece of the Mets' success this year, and they acted fast to replace him today. Roberto Hernandez (left...and yes, he is indeed 73 years old), who pitched out of the bullpen for the Mets last year, and 24-year-old starter Oliver Perez, will join the Mets, and outfielder Xavier Nady will head to Pittsburg.
Labels: red sox rivalry, roster moves, signings
posted by Yankees Chick @ Monday, July 31, 2006


It's Official: Yanks Trade Prospects for Bobby Abreu and Cory Lidle
Sunday, July 30, 2006
With just 24 hours of trading time left, the Yankees and the Phillies were finally able to hammer out a long-rumored deal to bring Abreu to the Bronx. In exchange for the OBP-extraordinaire Abreu and better-than-Ponson Lidle, the Yanks sent the Phillies 4 minor leaguers.

Trade Details

The Cost:

C.J. Henry (SS). Henry was the Yanks 1st round draft pick last year, but was only hitting .237 with 2 home runs and 33 RBIs in Class A this year.

Jesus Sanchez (C). With the Gulf Coast League Yankees (sub Class A), he was hitting .264 and just 10 RBIs.

Carlos Monasterios (RHP). He played with Sanchez for the GCL Yanks this year and posted a 2.97 ERA in 7 games, including 3 starts.

Matt Smith (LHP). Easily the biggest talent the Yankees lost in the deal, Smith appeared 12 times for the Yanks this year without allowing a run and had a 2.08 ERA out of the bullpen in AAA.

Money: The Yankees agreed to take complete responsibility for Abreu's hefty contract. Abreu is due $22 million for the remainder of the 2006 season and the 2007 season; the Phillies paid him $1.5 million to waive his no-trade clause. Lidle is in the last year of his contract, which allotted him $3.3 million for 2006. The Yanks will pay Lidle the remainder of that $3.3 million.

The Return: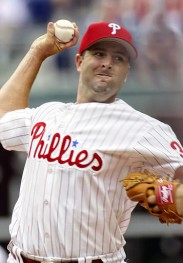 Cory Lidle (RHP). The 36-year-old may not be the most dominating pitcher in the league, but he has been very consistent over the years and should provide the Yanks with a much-needed steady arm at the back end of their rotation.

Bobby Abreu (OF). Abreu has been having a good 2006 season, and the good news is that he's posted great numbers his entire career. His OBP is 3rd-best in the league, and he can hit for both average and power.
The Reward:
Adding Abreu's impressive OBP and RBIs to the lineup is just what the doctor ordered to give the Yanks the boost they need to overtake the division. Baseball Prospectus speculates that the Yankees will win 1.5 extra games over the course of the remainder of the season with Abreu in the lineup, and while Lidle may not be the ace Yankees fans were hoping Cashman would find, his consistency will certainly offer more stability and innings pitched than could Ponson or Chacon.
Labels: farm hands, roster moves, signings
posted by Yankees Chick @ Sunday, July 30, 2006


Stinnett DFA; Sal Fasano Steps In to Fill Second-Rate Catcher Position
Wednesday, July 26, 2006
"I'm sorry, Stinnett, this relationship is just not going to work out. It's not you, it's me. I've found someone else, and he has a curly mullet and an awesome mustache. "



After 34 games with a .228 batting average and an incredible 29 strike-outs (that's 37% of the times he stepped up to the plate, folks – to put that in perspective, A-Rod has struck out 24% of the time, and he's having a rough year), the Yanks decided that things just weren't going to work out with Kelly Stinnett. I'm not exactly sure what expectations the Yanks were holding for a 36-year-old man whose best complete-season batting average was .259, but apparently Stinnett did not live up to them. The love affair officially ended this morning with the Yankees

DFA-ing Stinnett and sending minor league infielder Hector Made to Philly in favor of Phils' cast-off Sal Fasano

. Sally, as I shall affectionately call him until he inevitably disappoints even those of us with the lowest expectations, has had a slightly better year than Stinnett, hitting .243 with 8 doubles and 4 homers in 50 games (and

only struck out 33% of the time!

). Offensive mediocrity aside, Sally actually has a good reputation as a catcher; he had considerable success in his many years in the minors and is known for being helpful to young pitchers (a trait not as useful to the Yankees' mostly retirement-age pitching staff). He will likely prove to be a marginal improvement over Stinnett, and every RBI or attempted stealer caught is going to be valuable in the Yanks' race to take over 1st place in the AL East.


Labels: roster moves
posted by Yankees Chick @ Wednesday, July 26, 2006


Yankees Chick Mailbag!
Tuesday, July 25, 2006
Each week the Yankees Chick receives scores (and by "scores", I mean "a few") of correspondence via email and various forums. These little notes run the gamut from simple nods of agreement to cynical castigation of my baseball knowledge, and I treasure them all like love notes sent from a 7
th
grade boyfriend.
With the lack of trades being made and little desire to lament further over the haggard bullpen and bulging disabled list, I thought today would be a good time to share the epistolary affection with you darlings.
----------------------------------------------------------------
I'm pretty sure that people that think of questions like this one would be better off jumping on the first girl to proposition him than waiting for one with the proper jersey to come along - - it could be a long wait.

"Hey Yankees Chick,
One of my readers at [insert g0sawxxxx blog here] sent me an email question recently that I was hoping you could help me with. (BTW I did a search on google of Yankees Small and your site popped up)...The reader asked 'What would be worse: a male Red Sox fan (having sex with) a female Yankoff fan or a male Yankoff fan (having sex with) a female Red Sox fan? I have to say the latter is much worse. The thought of a Boston girl (servicing) a douchebag Yankoff fan makes me want to puke, meanwhile if I was nailing a (dirty girl) who actually cheers for those (homosexuals) I could at least do her from behind!'"
---------------------------------------------------------------
I'm 99% sure this was sent in by Mark Gruidzelandiouwerkld and Doug Mienkeciqoieurksadlkz3e.
"Dear YC,
The Royals are going to kick your Yankee butts when Jeter and team come to Kaufman stadium. I'll have my brooms ready."
---------------------------------------------------------------
When I look for a man, I look for a good lifeless stare.
"Dear Yankees Chick,
It's interesting to me that if you read the blogs and opinions of the people who don't live in NY they all support him [A-Rod] so much. But then you go to a game and 50,000 New York fans boo him mercilessly. You ever watch him when it REALLY counts. when it really really counts. look at his eyes, they have the same dead stare as when he's up in the 1st inning of a 0-0 game. he lacks the ability to elevate his game, he lacks that killer instinct that every great player needs. he has no heart. Not that i'm taking anything away from what happened the other night but he hit that against a struggling team and a not so great pitcher. those kinds of hits are the norm for ortiz but extraodinary for arod.
---------------------------------------------------------------
The fact that the link he gave me didn't work pretty much ruined my week. And I actually hate to make fun of this, because it might have been cool...but without a link I have to assume the worst.
"Hello. My name is [Yankees fan]. I am a sports song singer/songwriter and a longtime Yankees fan. I have written and recorded a song about the Yankees called "Yankee Tradition". I set it to a slideshow and it is available at: